Based on the type of hair extensions you choose, you might need to invest a little bit of money. Quality human hair extensions are expensive, so it is only natural for people to be cautious about the details. But what is the average lifespan of hair extensions? There is no definitive answer to this question. Choosing the right type of hair extensions will make a big difference in how long your extensions will last.
At Hesstudios, the extension experts at our hair salon will help you find the right extensions that match your needs and lifestyle. We also offer salon suite rentals best for beauticians who want to boost their carrier. So if you're a hair extension specialist or a hair color specialist, contact us, come see our salon suite rentals and enjoy the countless benefits of hair studio rental.
Today, there are many common types of hair extensions available, including the following:
Temporary Hair Extensions
Temporary hair extensions are extensions that can be put in or taken out as needed on a regular basis. While some types of temporary hair extensions, like clip-in pieces, can be applied by you, others, like wefts, contain larger pieces of hair that need to be applied by a professional.
Temporary hair extensions do not last as long as other options because they are not permanently attached to your natural hair. People with temporary hair extensions like clip-ins usually remove them at the end of each day to keep them in perfect condition.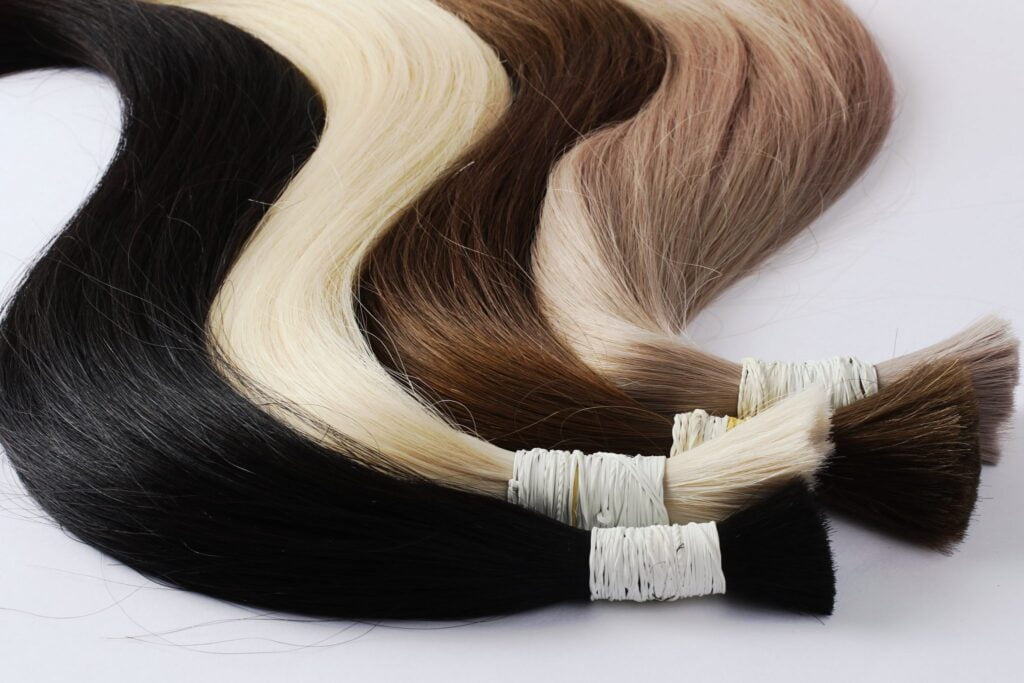 Clip-Ins
Clip-in extensions are a great option if you want to save some money and apply for the extensions yourself. Numerous colors are available in clip-in hair extensions to match your natural hair. You can find them in countless colors, and they easily attach to natural hair. With a little practice, you can apply for clip-in extensions within five minutes. Removing them is also easy. Clip-ins that are properly maintained can last between three and six months before they begin to wear out and need to be replaced.
Weaves
Weaving is a fun way to create a new hairstyle by adding length and volume to your natural tresses. Several weave methods are available depending on the look you want, including sewing, interlocking, bonding, fusion, and strand-by-strand. A weave should not be left in your hair for more than two months. A hair extension specialist should also touch up your full head weave or tracks every 2 to 4 weeks if you have them. By doing so, you will keep your hair looking its best and keep breakage to a minimum.
Wefts
A beaded weft hair extension offers the same benefits as other popular extension types. Like fusion extensions, they are highly durable and provide full coverage, just like sewn-in weaves. In addition, the process uses no heat, glue, chemicals, or tape, and the wefts do not damage your natural hair.
The wefts are available in many lengths, colors, and textures, and installation is quick and easy. How well you care for your wefts will determine how long they will last. As long as you take proper care of your hair extensions, you can expect them to last six months or more.
Semi-Permanent Hair Extensions
Three main types of semi-permanent hair extensions are available to help you achieve a new look. Tape-in extensions, microbead extensions, and sewn-in weaves are some of these methods. Depending on how well they are taken care of, semi-permanent hair extensions can last between six and eight weeks.
Usually, semi-permanent hair extensions can be washed the same way as natural hair. For micro bead extensions to maintain a natural appearance, they may need to be repositioned every 2 to 3 months by a hair extension specialist. Be sure to moisturize your scalp and the edge of your hairline once a week when wearing a sewn-in weave.
Tape-Ins
Hairpieces can be applied fast and easily with tape-in hair extensions. The average lifespan of human hair tape-in extensions is between 3 and 6 months, while the average lifespan of synthetic hair is between 1 and 2 months. Proper care can extend the life of your tape-ins by up to 12 months. Try to avoid synthetic hair and opt for human hair extensions, which have a longer lifespan. Make sure your extensions are installed by an experienced hair extension specialist. This will determine how long they will last.
Looking for Salon Suite Rental?
At Hesstudios, we have different salon studios for rent available that will cater to the needs of different types of beauticians. We provide a variety of beauty services, including a nail salon, hair braiding, massage therapy, a barbershop, and so on. Contact us to schedule an in-person tour of our salons! Call now!