Waxing
In & Near Ann Arbor, MI
Professional Wax Services at Your Local Salon In Ann Arbor, MI
Excess body or facial hair can be frustrating. However, there's no reason to let unwanted hair interfere with your relationships or social calendar. With waxing services by a professional esthetician, you can experience the smooth, sexy skin you crave and the improved quality of life that comes with it. Visit Hair Essentials Salon Studios for your next wax appointment.
Who Is An Ideal Candidate for Men's and Women's Body Waxing?
Before your wax appointment, discuss any skin concerns you may have, as well as body sensitivities or allergies that may make your waxing appointment more uncomfortable than is necessary. As waxing professionals, our estheticians have been taught special techniques to assist you in having the very best experience possible. However, your aesthetician may recommend that you hold off on your appointment until any rashes, breakouts, sunburns or wounds diminish or completely disappear. Your esthetician will also recommend that you refrain from using prescription exfoliants like Retin-A, Tazorac, or Differin for at least three months prior to your wax appointment. On the other hand, if you don't have any blemishes or sunburns, haven't been using any prescriptions that may make your skin more sensitive, and want smoother skin, a waxing session is most definitely ideal for you.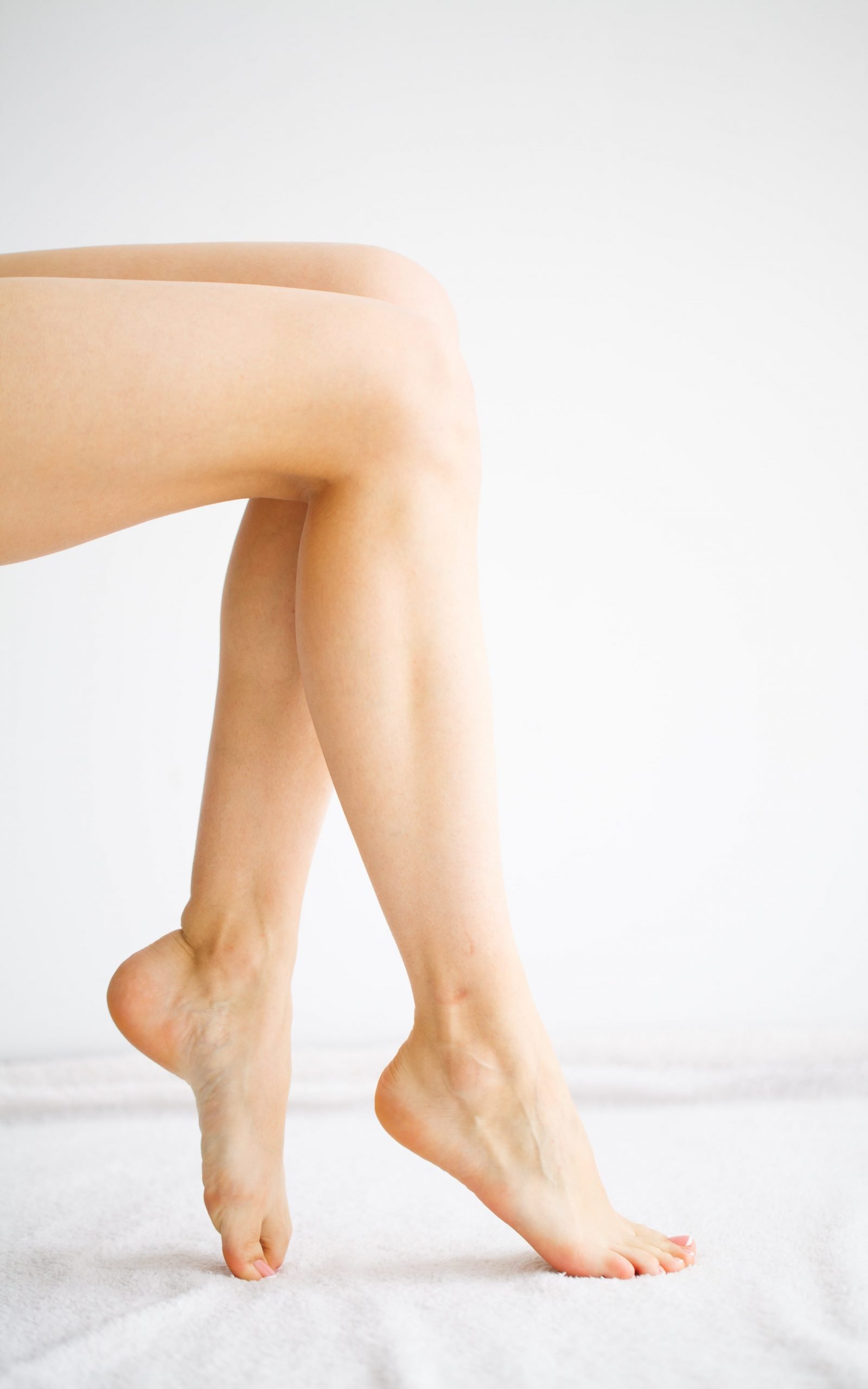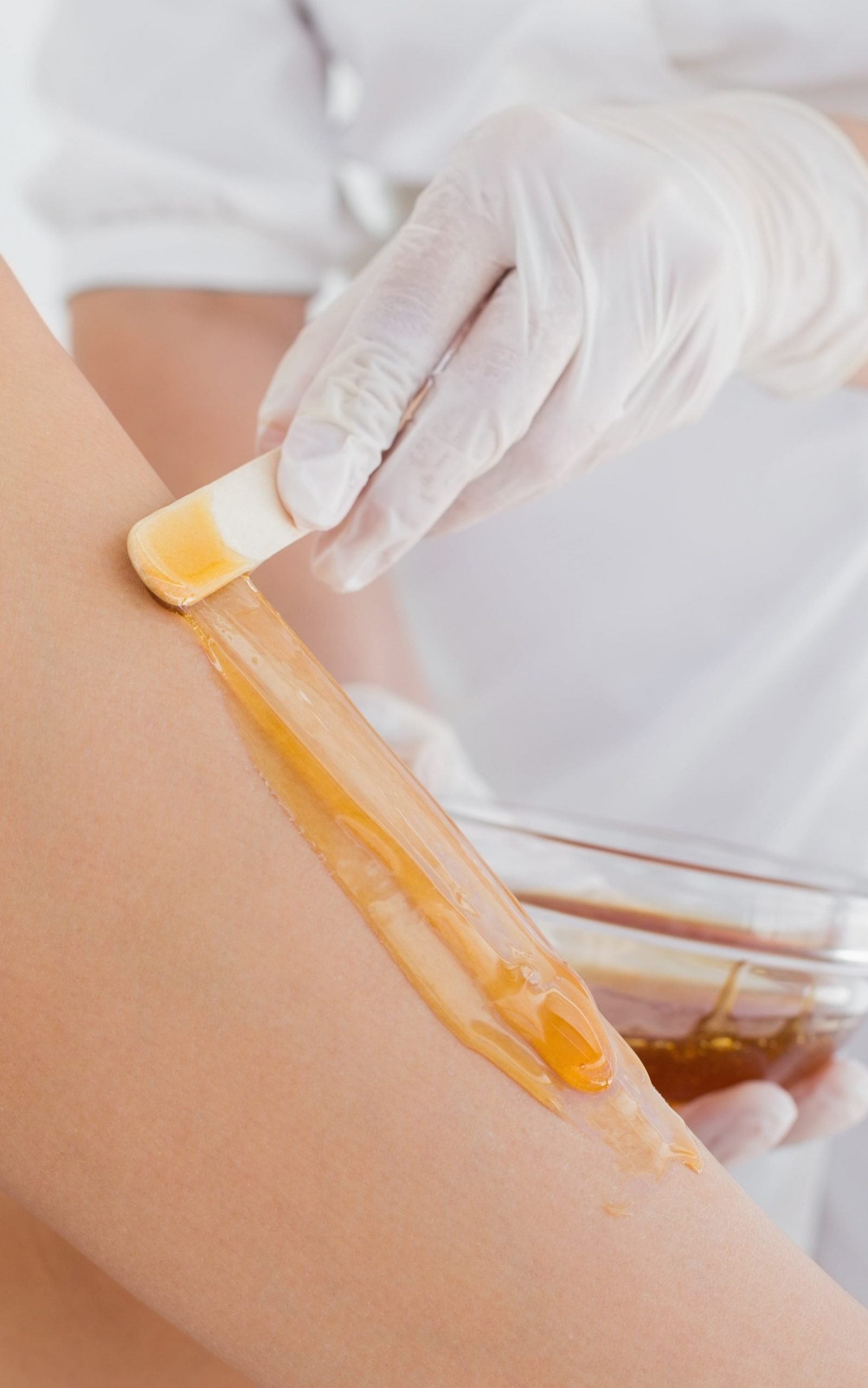 The Services You Desire for Men and Women
When you want a hair-free appearance and smoother skin, our skilled estheticians have you covered from head to toe. Hair Essentials Salon Studios offers a variety of waxing solutions to suit your every waxing need.
For women, we offer Brazilian waxing, full body waxing, leg waxing, and more. We take great care to use all-natural wax products and a skilled hand to remove hair gently and without pain. Whether you want to treat yourself or you have a big event coming up, schedule an appointment for female waxing services that will leave you feeling fresh, clean, and beautiful.
Men who want a smoother appearance are also encouraged to schedule an appointment. We serve the areas of Ann Arbor and Ypsilanti and provide a wide variety of men's wax services. Our men's wax services include full and half back waxing, chest, and shoulders waxing, and abs and stomach waxing.
We also perform legs, arms, and Brazilian waxing for both men and women. Schedule an appointment today if you want an experienced esthetician to give you the smooth and hair-free look you crave.
Talk to a Wax Specialist at Hair Essentials Salon Studios Now!

Call Now!
How Do Wax Appointments Work?
Waxing offers a means of semi-permanent hair removal. The process uses hot wax that is either hard or soft, depending on the sensitivity of the area being worked on. Soft waxes are typically used for larger areas, such as the back and chest, while harder waxes are used on more sensitive areas like the upper lip or bikini line.
When the wax is heated, it will be applied to the area of your skin where you want a smoother appearance. The wax will be applied in a thin layer with a flat wedge or spatula, whereby thin wax strips will be placed over the wax, where it adheres.
The strips are then ripped off in the opposite direction of natural hair growth. This quick action removes hair down to the root, which means that you can enjoy between two and eight weeks of hair-free skin. We recommend that you schedule your wax appointment every three to four weeks to maintain the look and feel you want.
It all starts with an initial consultation. During your consultation, your aesthetician will discuss your body waxing needs and alleviate any concerns. Some tips include not shaving between wax sessions. This allows the hair to grow to the proper length. You'll also be told to refrain from sunbathing or excessive exfoliation, as these can make the waxing process unbearably painful, which is the opposite of the comfortable and stress-free environment we like to maintain.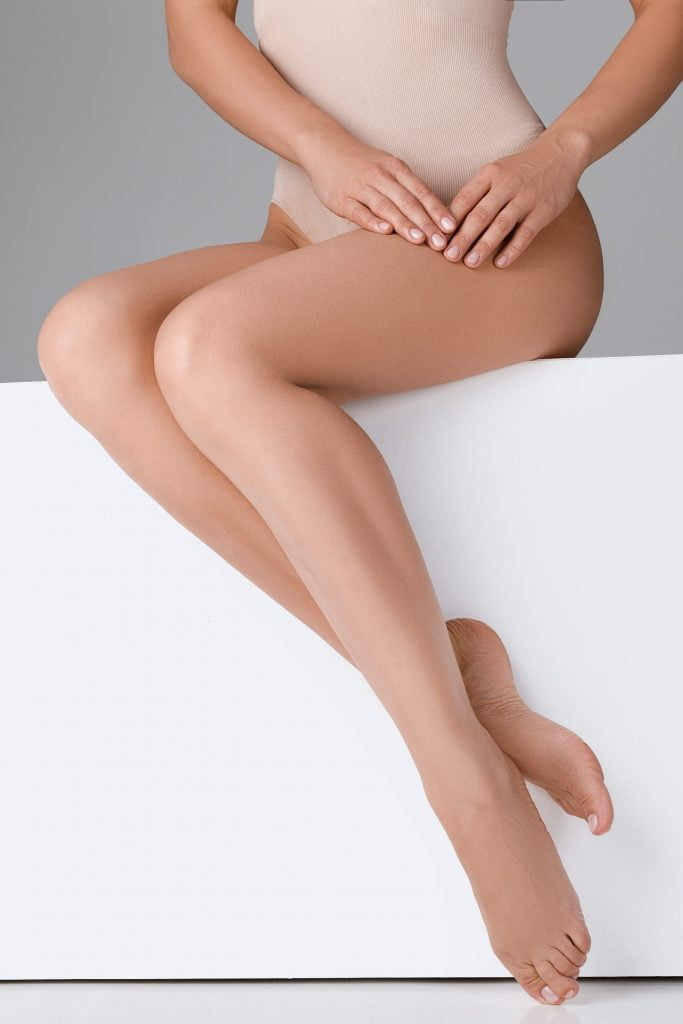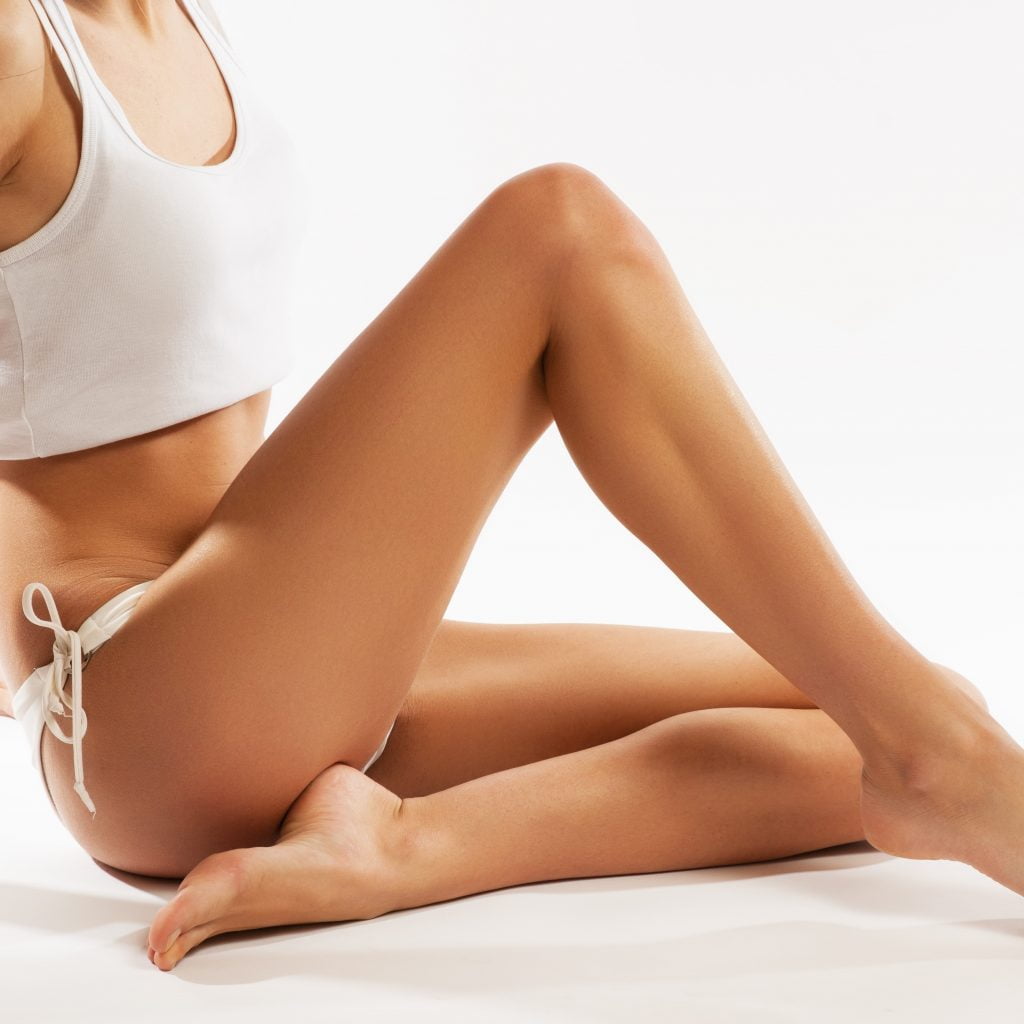 Brazilian Waxing
Are you planning on wearing a bikini this summer? A Brazilian wax will ensure that you don't show any unsightly hair while strutting your stuff on the beach or by the pool.
We offer a clean and comfortable environment where we can help you look and feel your best with all-natural wax products and impeccable techniques.
We do recommend that you refrain from shaving for at least two or three weeks in preparation for your appointment. Doing so leaves enough hair growth for the wax to grip. If you haven't shaved in a while, that's even better. The longer the hair is, the better your results.
Full Body Waxing
When you want your whole body waxed, we can remove unwanted body hair safely and quickly. We use a technique that provides gentle hair removal from all areas of your body. We will start with your most intimate of areas, both the front and back.
Tell your esthetician if you want any hair left behind, such as a landing strip on your pubic area. Of course, we can remove all the hair, which is known as a full Brazilian. Your aesthetician will then move on to full legs waxing, underarms, and upper lip.
If you want any other areas, let us know. Any area of the body can be added to your full body waxing package for an additional price.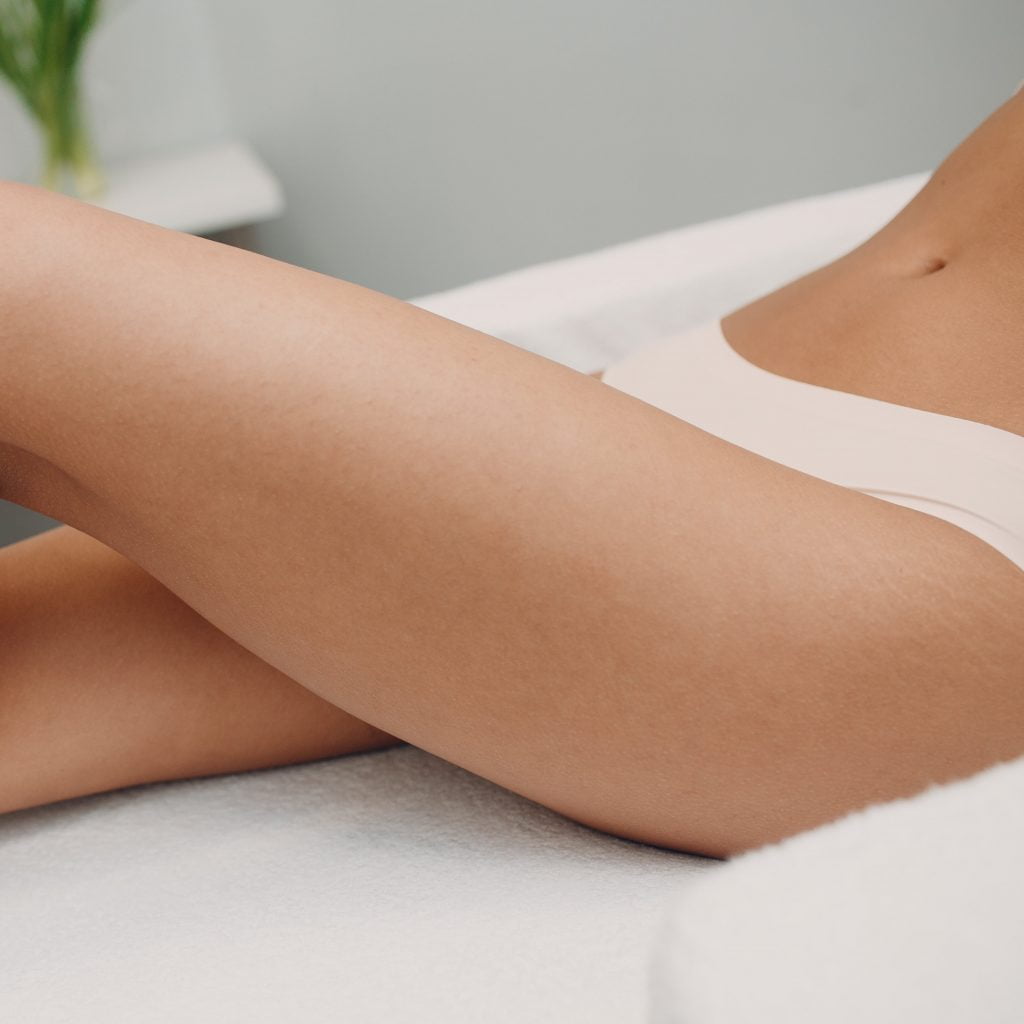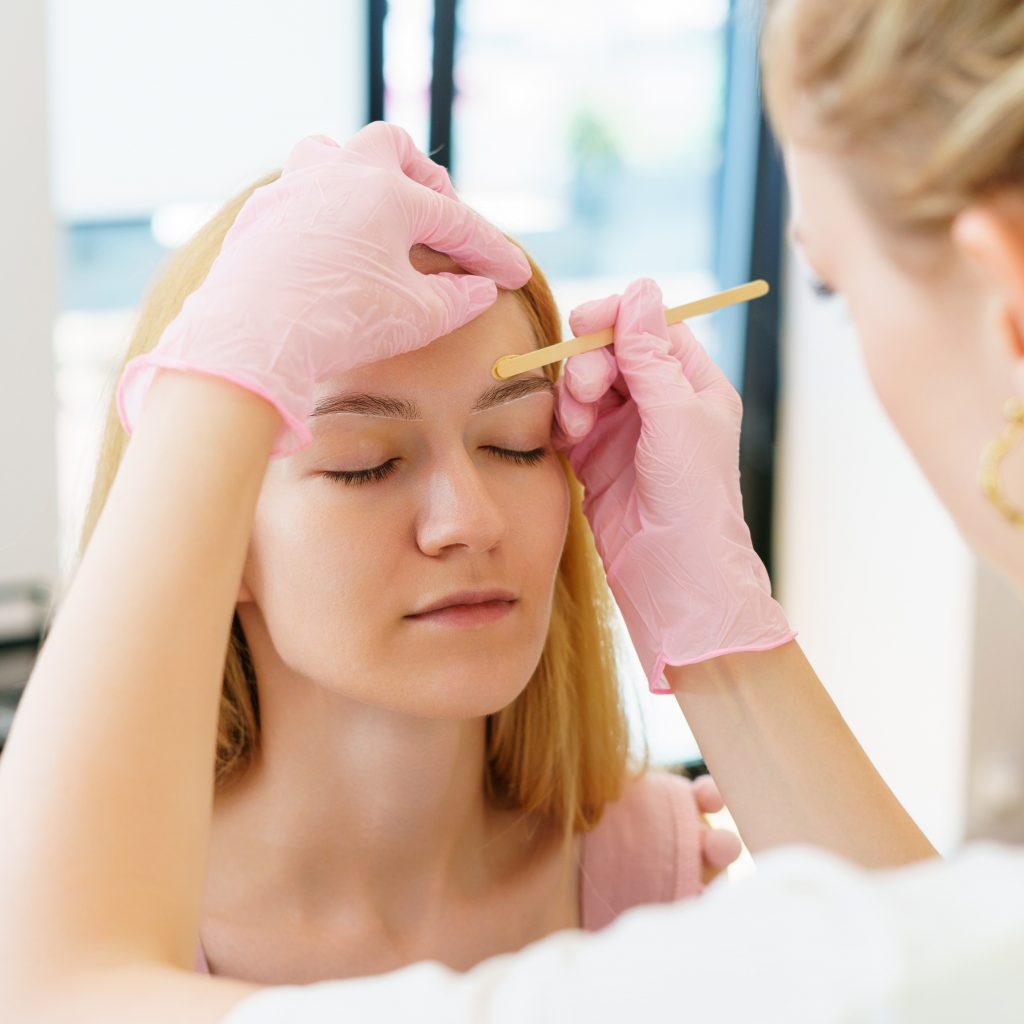 Brow Waxing
Well-groomed eyebrows by a professional aesthetician can transform your face and reveal a more confident you. Eyebrow waxing may sting a little the first time, but most of our clients report that the stinging vanishes with each subsequent visit. Waxing removes the unwanted hair around your eyebrows, crafting them into the ideal shape. Following the waxing process, your aesthetician might use tweezers and trimmers to grab and snip any unwanted hairs that may be left behind by the wax process.
If you are getting your brows waxed for a special event, you should note that the areas around your brows may appear pink or red for a few days following your appointment. To play it safe, we recommend getting a wax performed at least three days before any major event.
Lip & Chin Waxing
When you notice a little too much fuzz around your lip and chin, we have waxing services designed just for you. We can target the hair around your mouth, on your chin, and even on the sides of your face. Unlike tweezing or threading, waxing is fast and nearly painless compared with other facial hair removal solutions. For best results, try not to pluck or shave the areas where waxing will be performed, as you'll need to allow enough growth for the waxing process to work effectively. Ideally, you'll want hair growth that falls between a quarter-inch and half-inch in length. Try to avoid acid products, skin peels, or sunbeds, as this can make your skin more sensitive during the waxing process. You'll also want to ensure that your face is free of cuts and blemishes if possible, but don't try to exfoliate too much. Your aesthetician will be the one to advise you on when to get a facial wax and when to hold off until your skin clears. . Schedule your appointment today with one of our professional facial waxing experts in & near Ann Arbor, MI.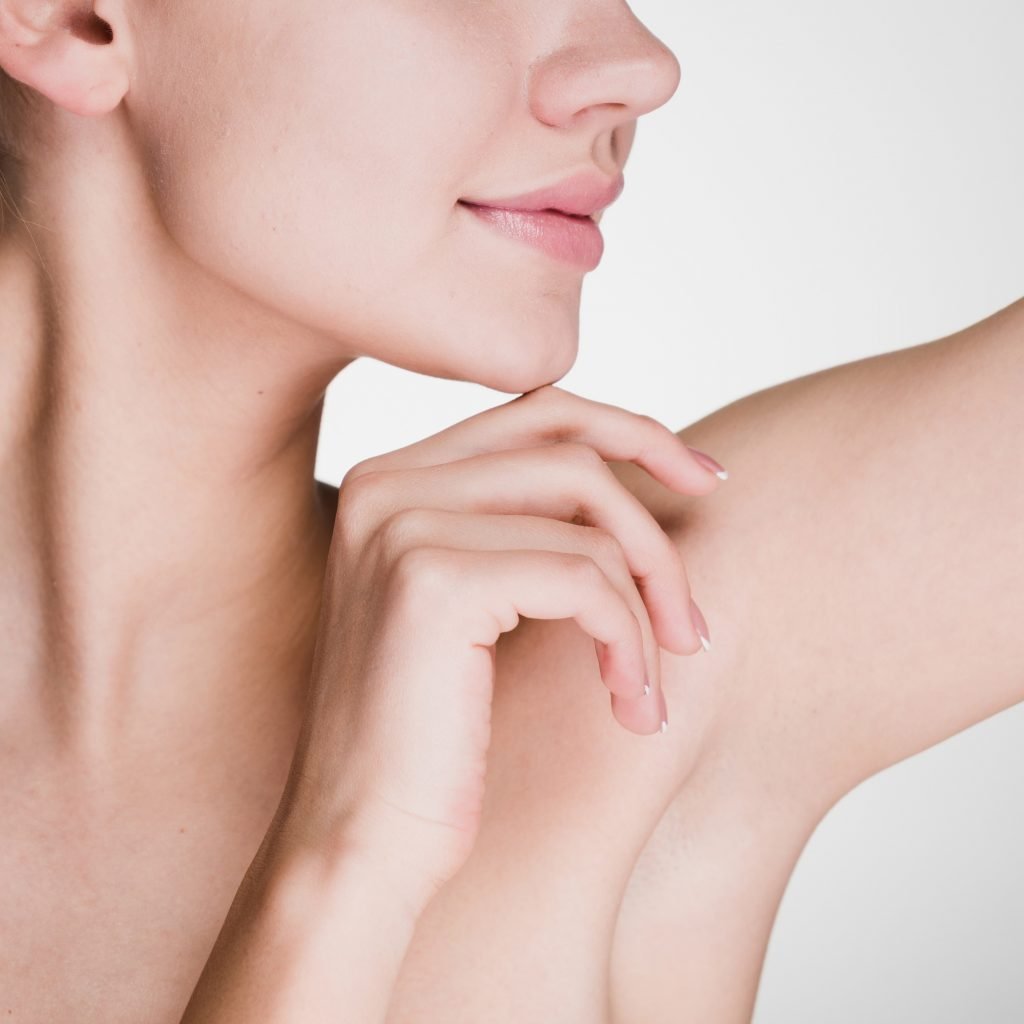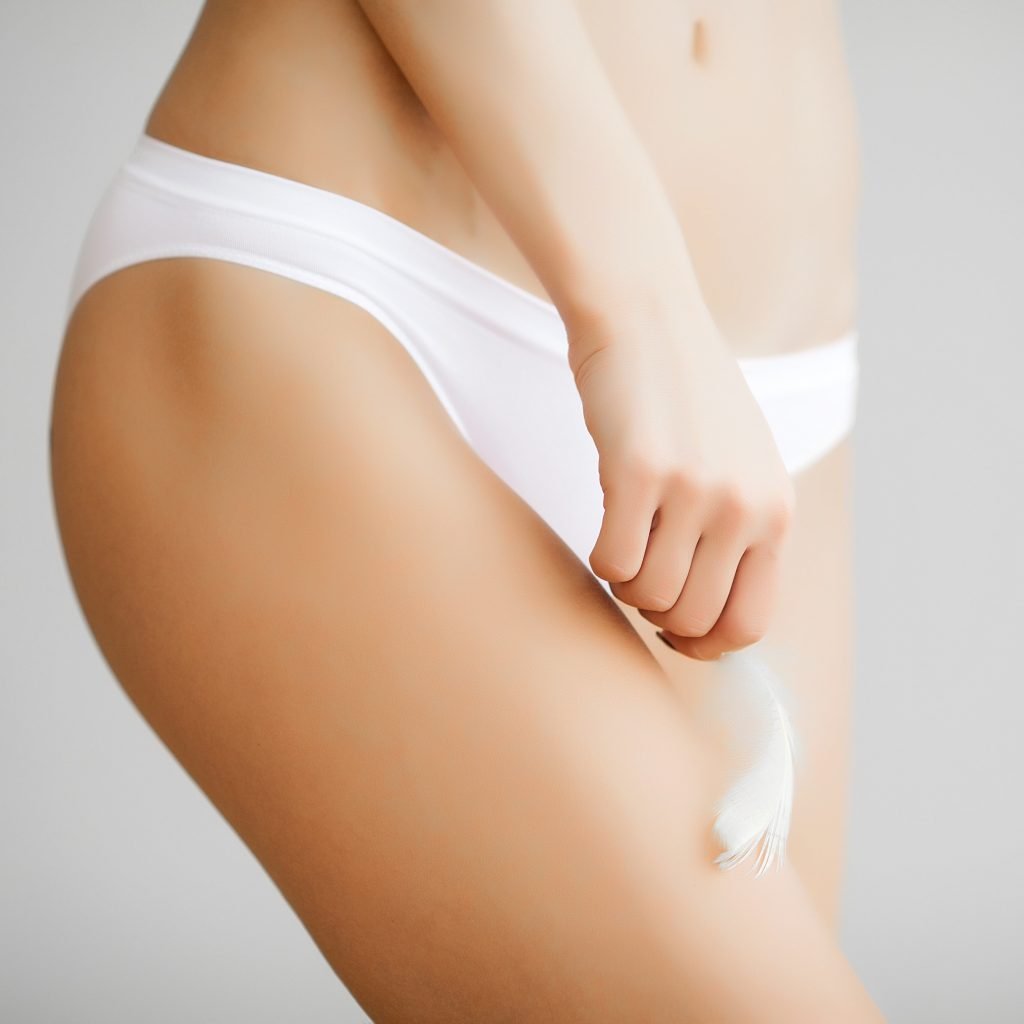 Bikini Waxing
Unlike Brazilian wax, bikini wax can transform your pubic area into all sorts of shapes and styles. The simple bikini shape involves a tidy patch of hair at the front and a bit down below. This way, the hair doesn't extend beyond your bikini line, allowing you to relax as you look your best at the pool or beach. Then there is the High Bikini or G-String wax, which removes hair from the top and takes your strip down a tad in length. Some of our clients worry that they are too hairy and feel that they need to trim before arriving for their appointment. Keep in mind that our aestheticians are professionals who perform bikini waxes every day. They have seen every style and length of hair and see it as completely normal. Feel free to completely relax while getting your bikini wax. For best results, we recommend that you have your bikini wax session repeated every three to four weeks. This allows enough hair growth for a thorough job and will keep your bikini line tidy for any occasion.
Full Leg Waxing
Full leg waxing services are ideal if you want all the hair removed from the total length of both legs. We use a soothing and all-natural wax formula and special techniques to gently remove unwanted hair from the top of the thigh all the way down to your ankles. Your aesthetician will remove hair approximately two inches from the bikini line.
The waxing will then include the front and back of both thighs, knees, and lower legs. Each strip will be removed one at a time, then an antibacterial lotion will be used to soothe your new smooth and hair-free skin.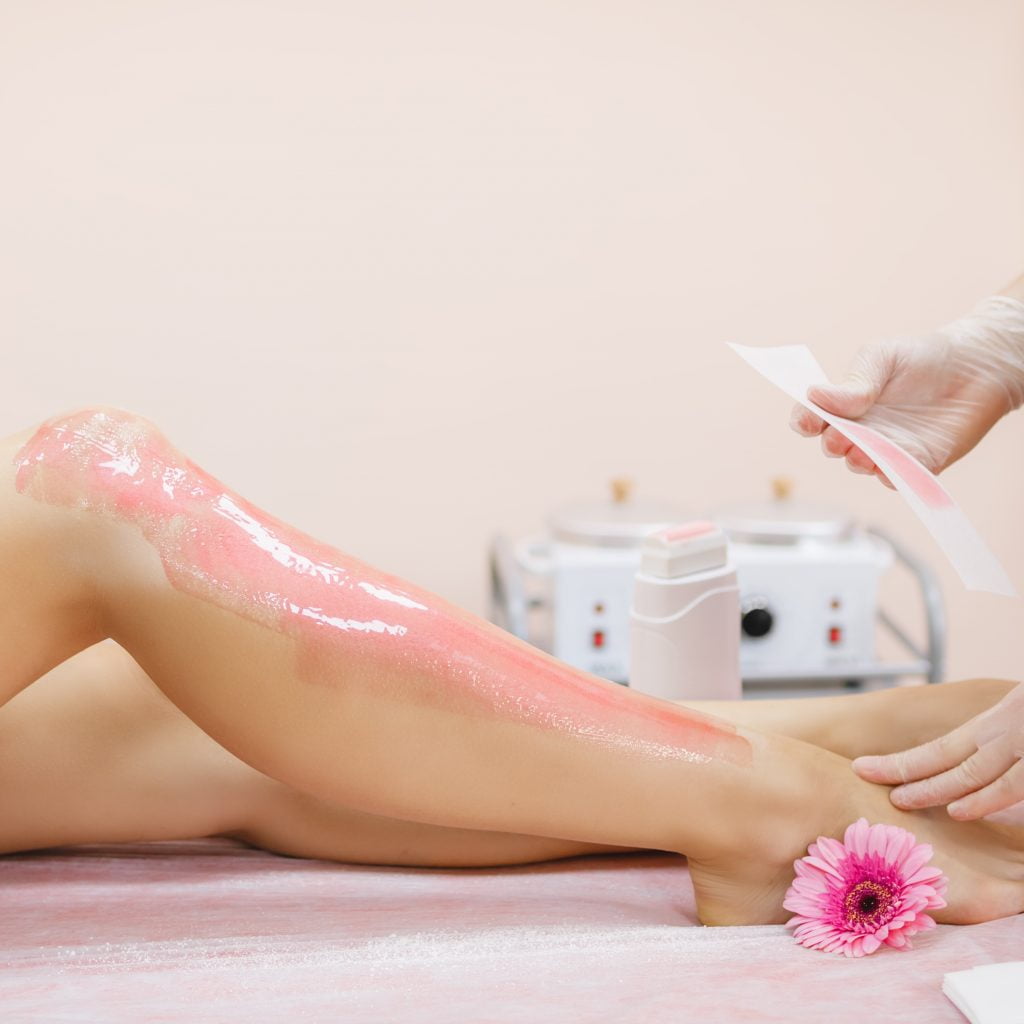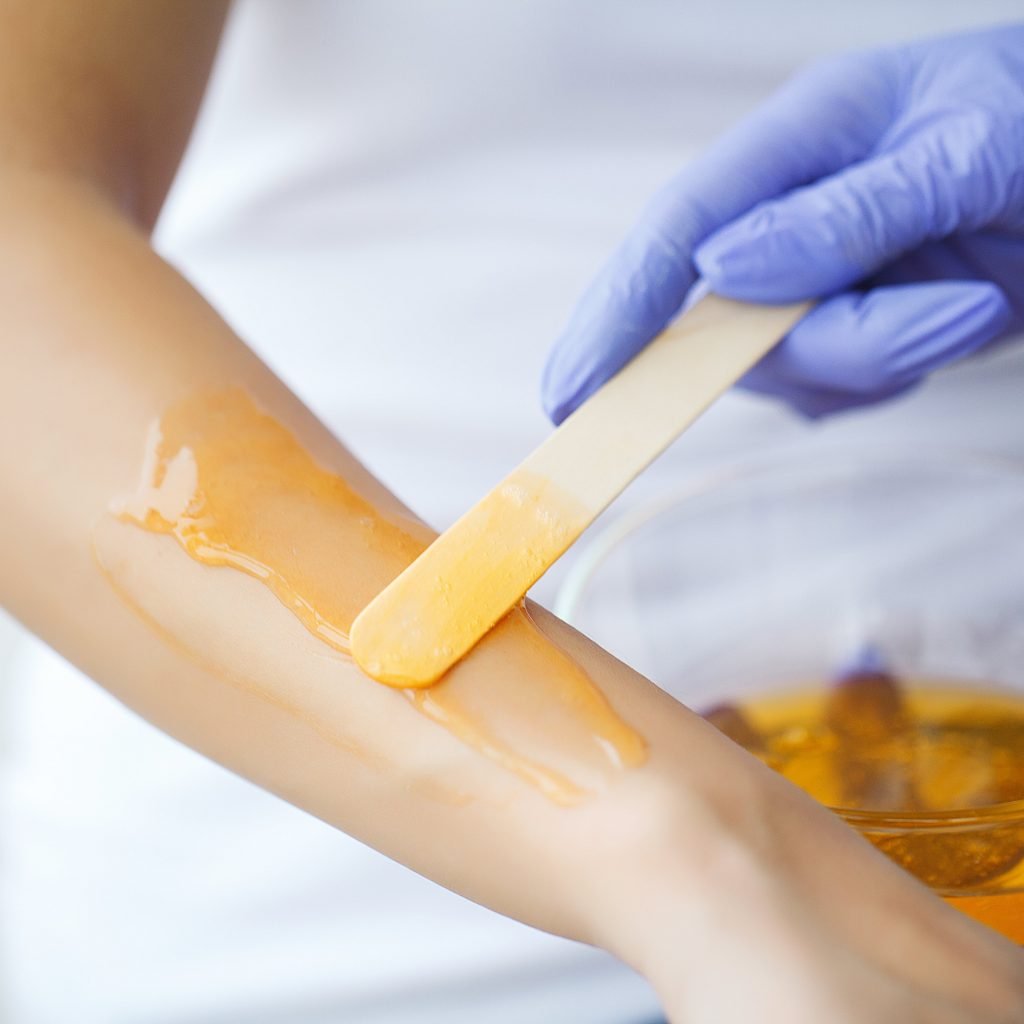 Arm Waxing
When you want smooth and flawless arms, we recommend arm waxing services by our professional aestheticians. Shaving your arms leaves those areas prickly for days afterward. Waxing, on the other hand, can help you get rid of unwanted hair for a longer period of time.
We can provide you with a full arm wax from your fingers to your shoulders, and all the hair in between. By the end of your appointment, your skin will be completely smooth, just like you prefer.
Back & Chest Waxing
For men who want a smoother chest, shoulders, and back, we offer the best back and chest waxing services in Ann Arbor and Ypsilanti, Michigan. Your aesthetician will use a soft-strip wax and a special technique to remove your unwanted hair gently, safely, and quickly. Back waxing, believe it or not, is one of the least painful services when compared to other, more intimate areas of the body.
For back waxing, your aesthetician will cover your shoulders and full back, continuing all the way down to your pant line. Your arms will then be waxed and blended to give you a more natural appearance. Chest waxing includes your chest, abs, the front of your shoulders, and part of your arms for a blending effect. In some cases, your aesthetician will trim your chest hair when necessary in order to prevent matting. Following your back and chest wax appointment, your skin may be a little tender, but any discomfort you feel should disappear overnight.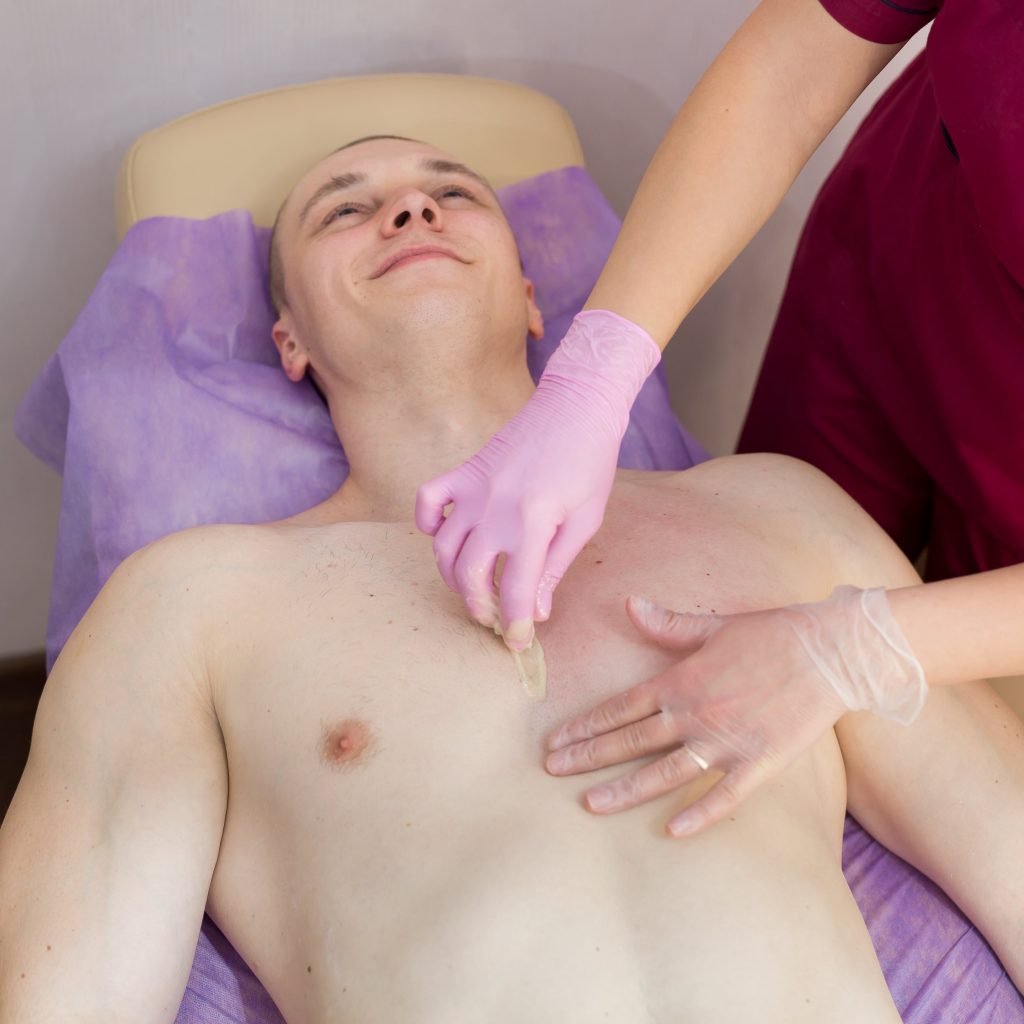 The Hair-Free Look You Want & the Comfort You Deserve
At Hair Essentials Salon Studios, we pride ourselves on total professionalism. Because your comfort and satisfaction are our top priorities, we've created a clean, welcoming, and peaceful environment in which to receive your treatments. We offer a full range of professional waxing services in & near Ann Arbor, MI for your convenience. Schedule an appointment today and our skilled and experienced estheticians will help you fall in love with your body as you experience the improved confidence that comes with smooth and beautiful skin. Don't let excess body or facial hair stand in the way of living your best life. With a wax from Hair Essentials Salon Studios, you're ready for anything. Call today to schedule your appointment and we'll have you looking and feeling your best in no time!
We also offer salon suite rentals to estheticians who want to own and operate their own beauty salons in Ann Arbor. Contact us today!