Hair Extensions
In & Near Ann Arbor, MI
Hair Extensions Installation Services
Planning a switch to a new look? If you have never used hair extensions before, you should definitely know how appealing they are. Whether you want to hide a bad haircut or add more length and volume to your hair, wearing hair extensions is an excellent option.
Many women think that extensions are complicated. The reality is that applications of these products can be both easy and swift if you have a skilled hairdresser or hair stylist by your side.
If you desire a new, attractive hairstyle, hair extensions will help you achieve that while giving seamless results. Whether you are in search of clip-in, tape-in, flip-in (or halo extensions), or sew-in, you should head straight to Hair Essentials Salon Studios in Ann Arbor, MI.
Hair Essentials Salon Studios brings you a wide range of luxury hair extension services to suit your individual needs. All you need to do is select a product that is a great match for your hairstyle and skin tone and then you can get it installed and attached to your hair for an eye-catching, brand-new look.
Book your hair extension appointment today!
We also offer salon suite rentals for beauty professionals who aspire to open their own salons. Contact us for more information.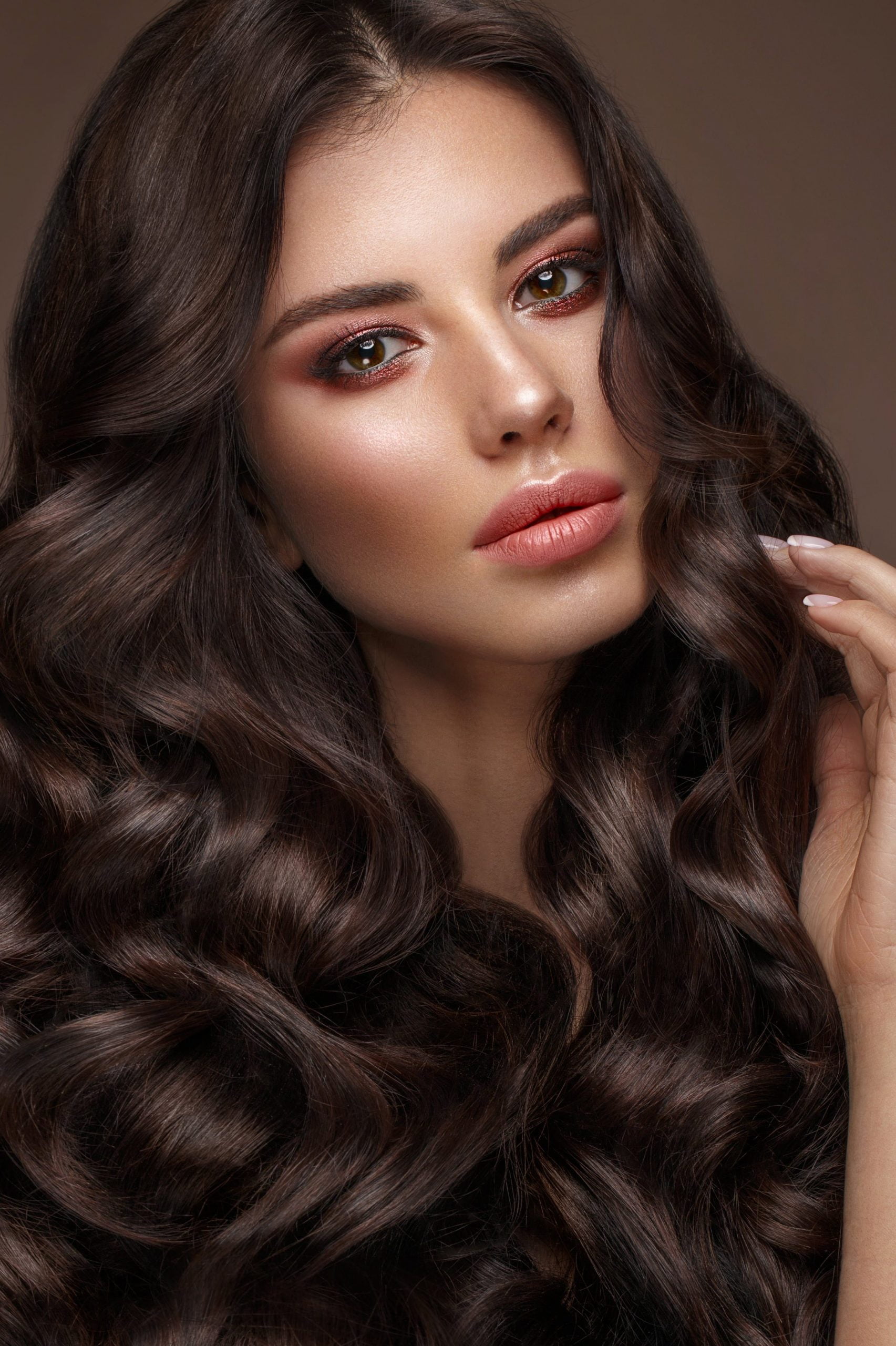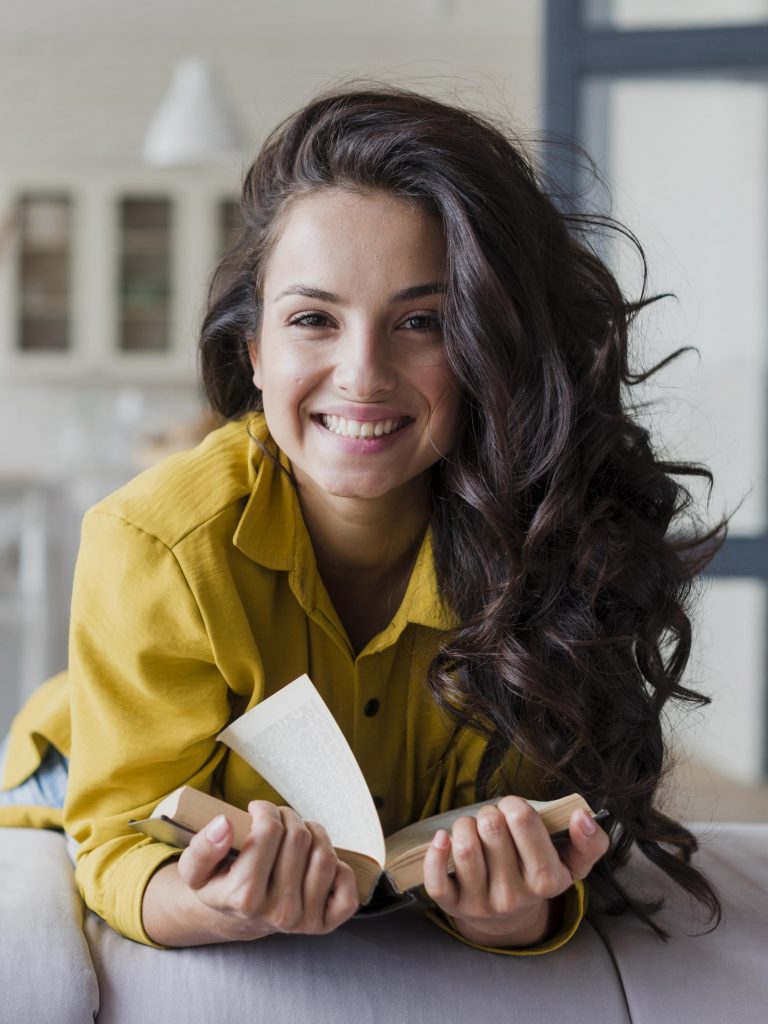 Why Choose Our Hair Extensions
Considering the variety of hair extensions, it often becomes overwhelming to choose which is ideal for your needs. Different types of luxury hair extensions are designed to fulfill different needs. That is why it is crucial to consult with an experienced extension specialist.
Hair Essentials Salon Studios in Ann Arbor, MI, is an ideal destination where you will find a wide variety of high-quality hair extensions in & near Ann Arbor, MI as well as get expert help with their installation. Our professionals will first evaluate your needs and then offer you expert guidance to choose the right hair extension, install it and then equip you with proper maintenance tips. Our hairstylists and hairdressers are highly trained in the correct installation of hair extensions – in a way that looks incredibly natural, attractive, and gorgeous.
Our hair extension specialists in & near Ann Arbor, MI have expertise in the installation of all kinds of temporary and permanent human hair extensions as well as a great deal of experience in paying attention to color and texture. If you are in search of salon studios for rent, feel free to talk to us.
Talk to a Hair Extension Specialist at Hair Essentials Salon Studios Now!

Call Now!
Methods of Hair Extension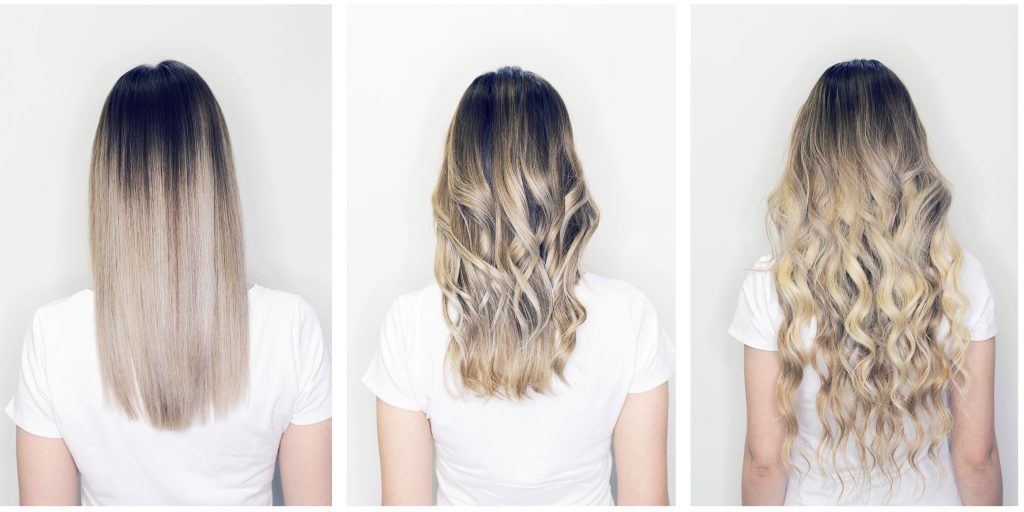 There are numerous hair extension methods available these days! So, you can choose the one that suits your taste and needs most by reading about their installation methods, durability, maintenance, etc. Here are some of the most popular types:
Clip-in Extensions
This is a type of extension that involves the use of small pressure-sensitive clips for installation. Clip-in hair extensions are not just easy to install but also easy to maintain. The wefts of hair can be attached to your own hair while creating a perfect blend for a gorgeous look. If you plan to use hair extensions only on a temporary basis for special events and occasions, clip-ins are the most ideal choice. You can remove the extension after use every night. We also recommend clip-ins for those women who are new to them. Once you become accustomed to these products, you can go ahead and try more permanent luxury hair extensions.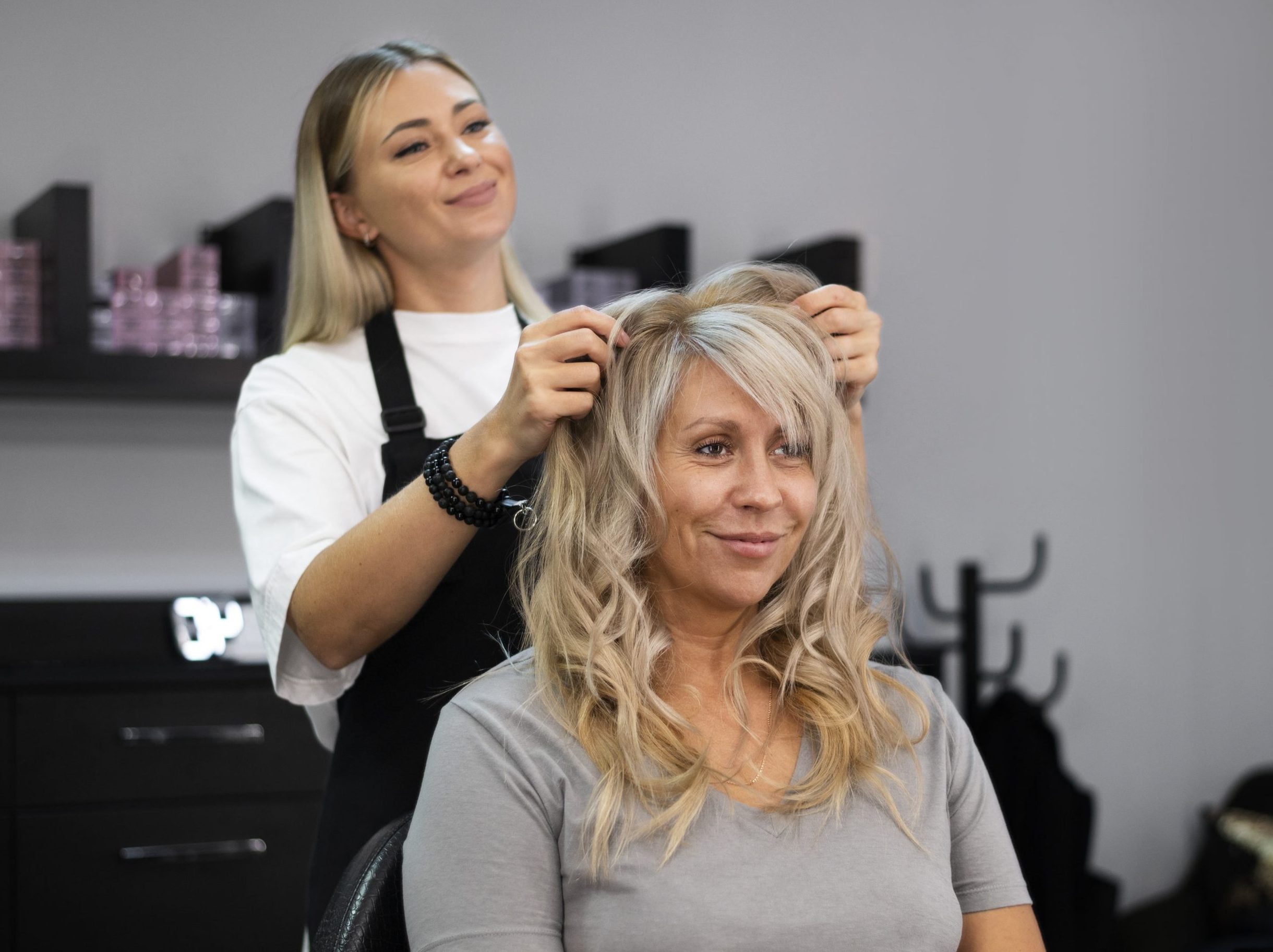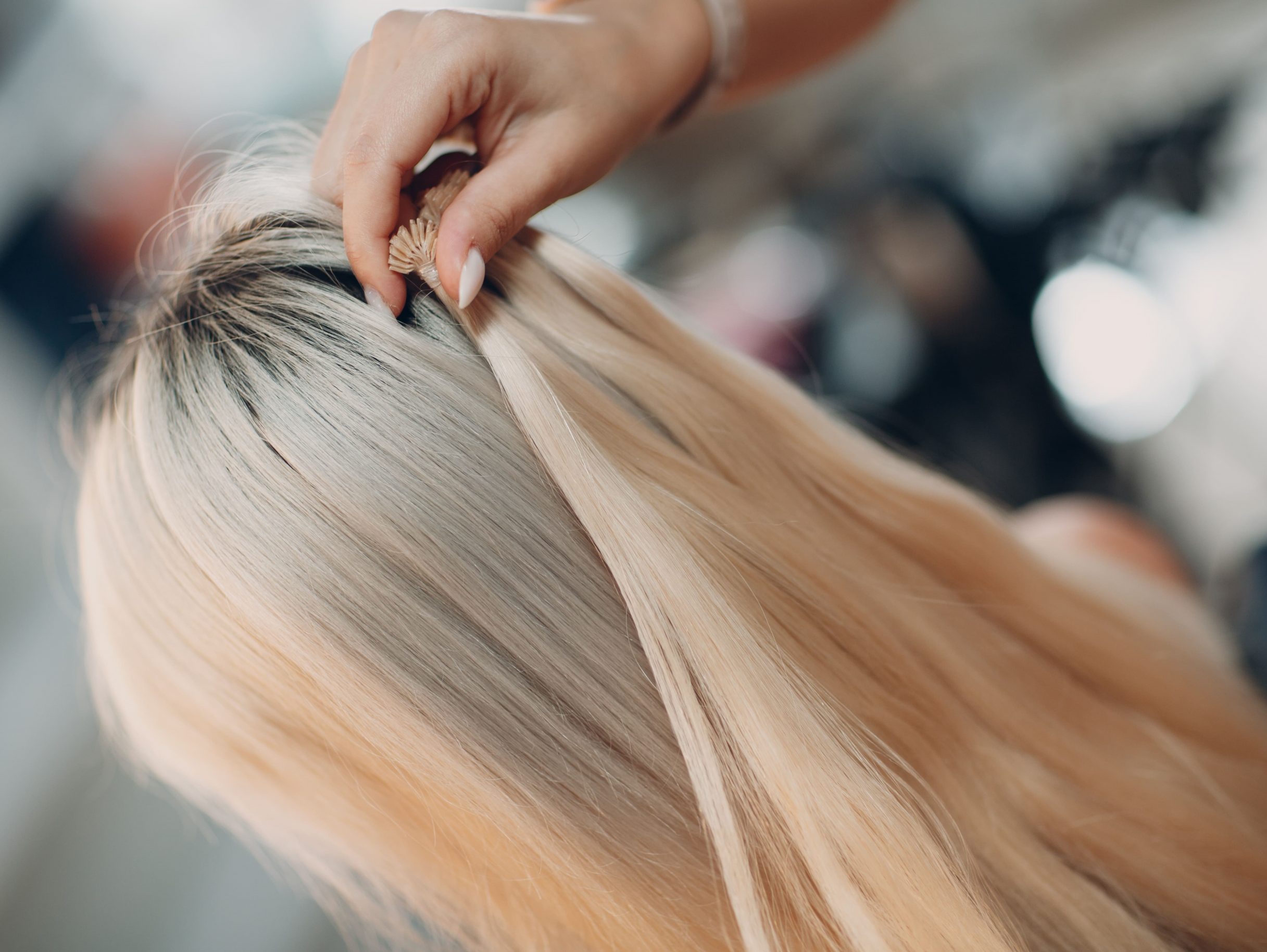 Tape-in Extensions
If you have thin and fine hair, tape-in hair extensions will prove to be a great match. Each piece of tape-in comes along with a piece of tape, attached to the base of the extension. One of the best things about this type of extension is that it lies flat on the head and blends with your own hair in an incredible manner. Once the tape-in has been installed, it simply becomes invisible. Installation of tape-ins will require the help of a hairstylist, particularly if you are using this type for the first time. At the Hair Essentials Salon Studios, our specialists will install the product with absolute precision.
Flip-in Extensions
This is a hair extension that has only one big weft for installation, instead of multiple wefts of hair. The product comes with a transparent wire, which is used for attaching the weft to the crown of your head. Once you place the wire under your hair, nobody will be able to notice it.
Do some styling and the extension hair will blend with your own hair in a natural manner. Just like a clip-in, you can have a flip-in installed in your hair within a couple of minutes. Since there are no tools required for hair extension installation, wearing and removing the extension is both simple and quick.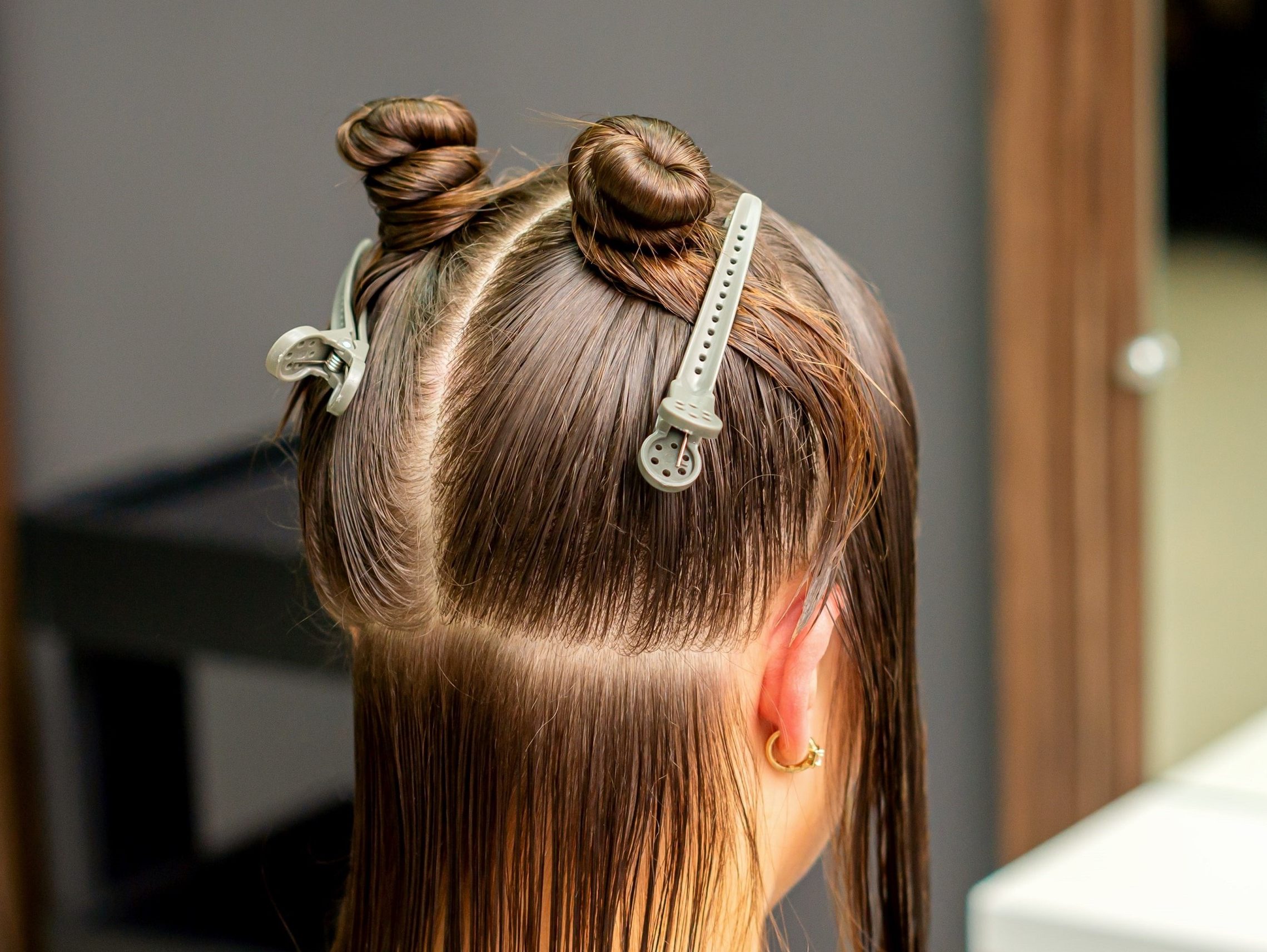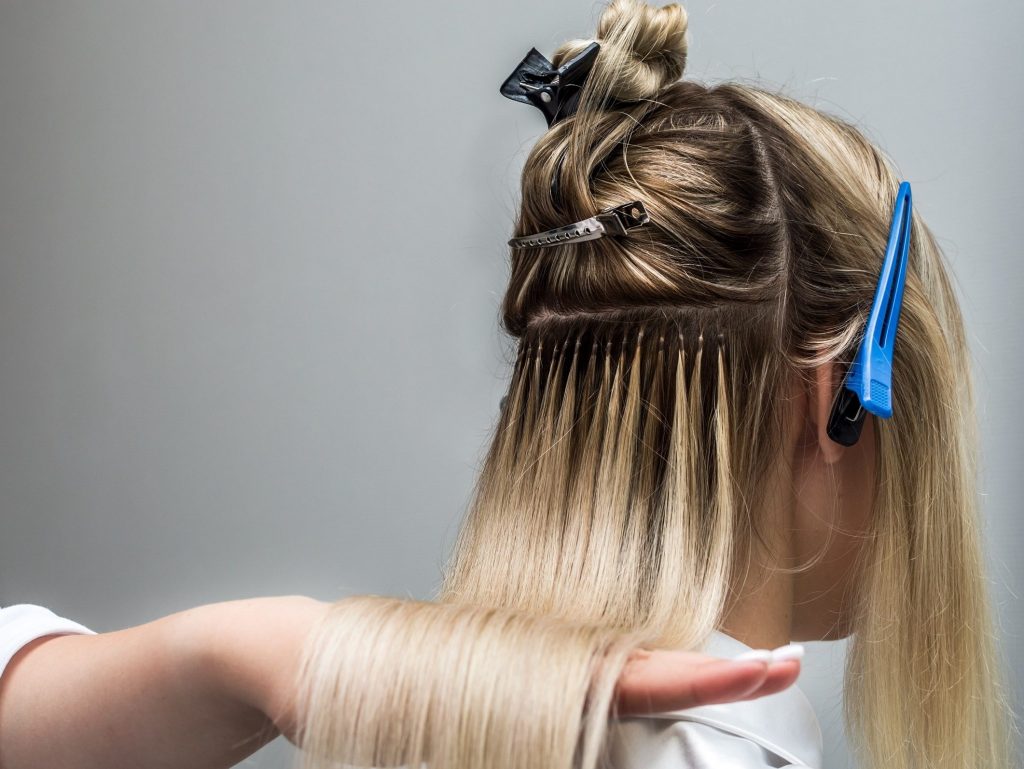 Sew-in Extensions
Use of this luxury hair extension involves sewing in wefts of hair into braids of your own hair, hence the name. Our hairstylist will first braid your hair in a natural fashion. Once the base has been created, the professional will attach the wefts of hair into the braids seamlessly.
Wearing this product means you will not need to use tapes, glue, or heat for the installation. Since this is a more permanent type of hair extension, you will need the help of a hairstylist both for installation and removal.
Talk to a Hair Extensions Installation Specialist
As you see, each of these hair extensions has its own unique way of installation and removal. Which one of these is ideal for you depends on what exactly needs you have. At the Hair Essentials Salon Studios, we deal with all kinds of human hair extensions and luxury hair extensions in & near Ann Arbor, MI to fulfill your individual needs. Also, we provide salon suite rental services for all beauty professionals.
Our experts will educate you on what each of these has to offer so that you can make a wise decision. Based on whether you have thin and fine hair or curly and coarse hair, our professionals will match you to the ideal hair extension so that you get your desired look. You can also get in touch with us for salon suite rental services in and near Ann Arbor.
Most of all, our specialists will carry out the installation of human and luxury hair extensions in a way that does not damage your own hair. At our hair salon, it is our topmost priority to provide clients with fully satisfying services. To schedule your consultation with one of our hair extension experts in & near Ann Arbor, MI, you can give us a phone call or write us an email.