Beauty Services at HESS
At HESS, let us treat you with our extensive range of services in our beauty salon. We offer massages, nail services, and skin and hair care. Our staff is highly trained and educated. We even offer specialized services like microdermabrasion, permanent makeup, hair extensions, and more.
Our intentions were to provide this area with the finest hair and beauty services available and to provide our team with superior benefits and a positive work environment. We've dedicated years to enhancing the quality of lives around us. We provide salon suite rentals for experts to grow our staff and become one of the most educated and talented in the industry.
While each one of our beauty professionals becomes a licensed cosmetologist before joining our team, they must graduate from our Apprenticeship program before they may serve our clients. This program ensures that each one of our designers has received advanced education and is capable of performing services that meet our high standards. Additionally, we mandate that each of our service providers complete a minimum of 30 hours of continuing education classes per year to stay on top of the latest techniques and trends.
Hair Design
We offer design services to women, men, and kids. Our barbershop and hair salon services include women's cut and style, men's precision cut, and kids' cut and style (10 years old and over)
Hair Styling
Women's Blow-dry Style
Blow-dry prices are determined by length, volume, and style. Styling hair with extensions.
Updo
An updo is any style in which hot tools and pins are used to style the hair.
Bridal Hair Styling
We offer both in-salon and on-location bridal services. Please consult with a front desk reservation specialist at our hair salon or visit our website for details.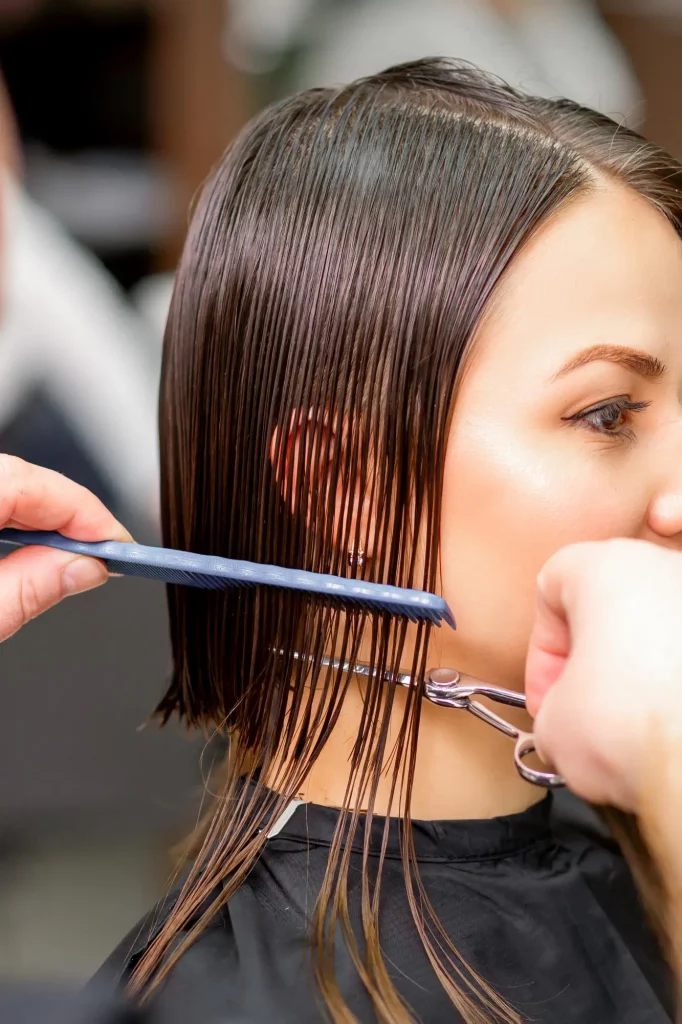 Hair Treatments, Texture & Wave
Having the same hairstyle for a long time can be boring. Most people like to explore new styles and make themselves look different by getting a new haircut or hair color. If you have straight hair, it's a good idea to try getting a perm and if your hair is curly, you can get a brand-new look by straightening your hair. By adding extensions, you can see how you look with longer hair. There are tons of hair services offered by a beauty salon so you don't have to stick to one style all the time!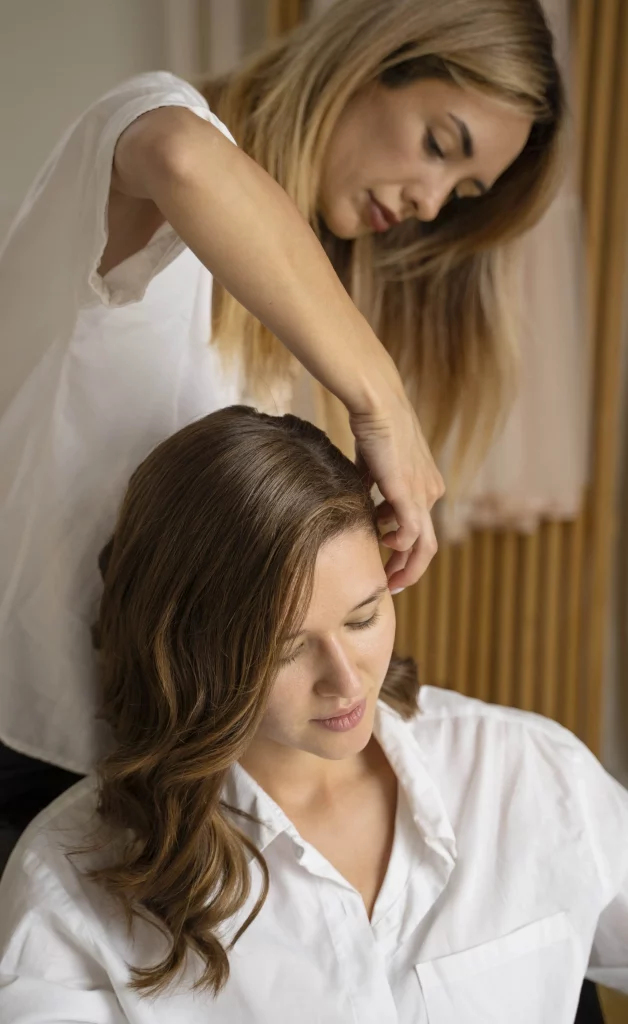 Permanent Wave
Silk Smoothing Treatments – At Legal Hair, we offer the Brocato Supersilk™ Smoothing Treatment. Best for frizzy, curly hair, Brocato's exclusive Nano Silk Complex is an innovation in smoothing technology. Silk amino acid proteins nourish and fortify hair, and Sericin, an amazing protein produced by silkworms, tames curl and frizz while enhancing detangling.
Hair Straightening
Super silk Straightening Treatment
This service will take approximately 3 hours to complete and can last between 3-6 months. Best for frizzy, curly hair, the silk amino acid protein reduces curl, removes frizz, and adds shine.
Supersilk™ Express Blow Out
While this treatment will achieve results similar to the full Supersilk treatment, it is not as strong. The service itself will only take about 1 hour to complete, and the results will last approximately 6 weeks.
Other hair treatment services:
Italian Keratin Blowout
Customized Conditioning Treatment
Malibu Treatment
Immediately remove chlorine and mineral build-up from the hair to help restore health & wellness to the hair and scalp.
Olaplex – Ask your stylist for details.
Hair Coloring & Highlighting
Color application and placement are an art. We take pride in educating our stylists on the most innovative methods of color and highlight application. If you are looking for the newest trends in hair color you have come to the right place. The starting prices listed here are based on traditional color services. Prices will vary based on the complexity of the application and the amount of color required to achieve your desired look. We do not offer prices per foil.
Our hair coloring services include:
Women's hair color
Men's hair color
Highlights (long & short hair)
Combination Highlights and Retouch
Ombre/Balayage/Hair painting
Ombre with Color Retouch
Fashion Color Techniques
Bleach and toner roots to ends
Shampoo Cap
City Beats Direct Dye remover
Corrective color
Styling hair with extensions.
Hair Extensions & Wigs
We offer a wide range of Victoria's Secret and Great Lengths human hair extensions. We also offer an extensive selection of Jon Renau wigs. We are happy to provide you with a complimentary consultation regarding these hair services. Please schedule your consultation to learn more about your options and pricing information.
Makeup, Eyelashes, Permanent Makeup
Ask your stylist for a complimentary makeup touch-up after your next haircut or color service. Makeup and eyelash extensions services at HESS include:
Make-up Application
Bridal Makeup
Private Make-up Lesson
Airbrush Makeup
Permanent Makeup
Eyelashes Start at
Eyelash Application
Eyelash extensions
Full set
Eyelash Fills
Permanent Makeup is a smudge-proof solution to perfectly lined eyes, impeccable eyebrows, and color-kissed lips. Schedule a complimentary consultation to learn if permanent makeup is right for you. This service is for brows, top or bottom eyeliner, and lips.
Mircoblading Services
Microblading touch-up (4-6 weeks after the first session)
Microblading color boost (7 weeks-9months after the first session)
Talk to a Makeup Artist at HESS!

Call Now!
Spa Services
A luxury sales tax will be added to applicable spa services.
Nails, Hands, and Feet
Add the benefit of soothing paraffin dip to your manicure or pedicure to soften and revitalize the hands and feet together with warm aromatherapy mitts and booties at our nail salon. The perfect way to pamper dry achy feet and hands.
Manicure
Gel Nail Polish
Gel nail polish with soak off
Pedicure
Mini-Pedicure
Tonic Detox Foot Bath
Nail Treatment
Polish Change
Nail Art
French Polish
Nail Repair
Paraffin Healing Ritual
Full Set
Fills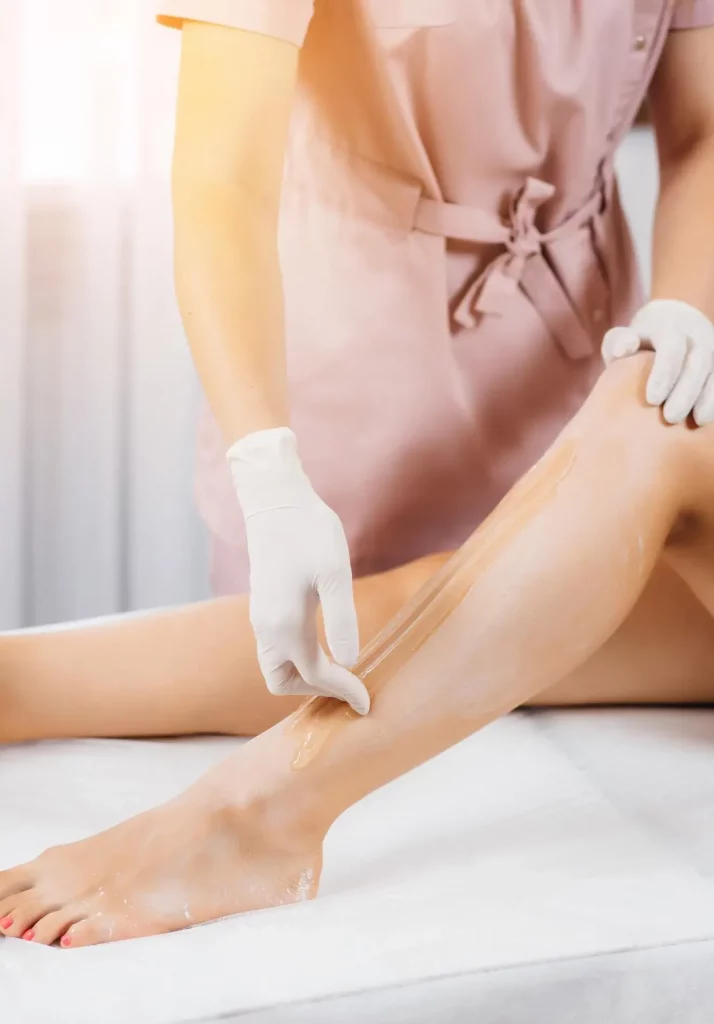 Hair Removal Services
Hair removal treatments are tailored to our client's needs and therefore may fluctuate from the base prices listed below.
Facial Waxing
Eyebrow
Lip
Lip & Brow
Face wax
Body Waxing
Full Leg / 1/2 Leg
Back & Chest
Bikini & Brazilian
Threading
Skin Care Services
We believe in providing the best skin care products possible. Our skincare and massage services also include neck, back & shoulder massages.
An introduction to massage utilizing a variety of techniques to relieve the tension of commonly over-stressed areas.
Deep Tissue Massage (30 minutes)
This intense massage is recommended for physically active individuals with chronic pain and muscle fatigue. Deep massage is used to restore structural alignment and balance by releasing chronic tensions and alleviating muscle enervation.
Warm Stone Massage (30 minutes)
This ancient art of healing uses warm basalt stones to bring relief to tense muscles and sore joints. By slowly massaging with these heated smooth stones, your therapist can balance your energy with this melting effect. Adding warm stone therapy to your massage does not increase the length of time of your massage.
Couple's Massage
Choose from any of the massages listed.
Reflexology
The soles of your feet and the palms of your hands divide into sections that mirror your body organs. By applying pressure and massage to these areas with the Chinese technique of reflexology, one can stimulate, strengthen, and restore both health and harmony.
Chakra Balancing & Energy Healing
A powerful healing energy system focused on balancing & correcting energetic defects in the Chakras.
Packages & Gift Ideas
Gift cards can be purchased in any amount and always make the perfect gift!
Mother's Little Helper – Gel Polish Manicure, Pedicure, & Swedish Massage
Head to Toe Relaxation – Swedish Massage with Eminence Organic Facial
One Day Escape – Swedish Massage, Eminence Organic Facial, Gel Polish
Manicure, & Pedicure
Girlfriends facial
Hair Essentials Salon Studios is an all-in-one beauty salon where you can find high-quality services for to satisfy all of your beauty needs. We offer salon suite rentals to professionals who look for a well-equipped place to showcase their skills and provide their clients with the best services. If you are looking for a top-notch beauty experience, don't hesitate to contact us and make an appointment.