Visiting a barber and getting a fancy new haircut can do wonders for your outlook and mood. On one hand, you are treating yourself to pampering and luxury, but you also get a fantastic makeover that can turn many heads.
To get the haircut you want, it pays to do your homework so that you can find the best barber in your area. Here is all you need to know about barbers and the haircut services they offer.
Barber vs. Salon – What's the Difference?
If you have never been to a barbershop, you may think that they are the same as your average hairstyling salon. While it is true that many barbershops can act and look like your average salon, there are some supreme differences that you should be aware of.
The Barber Shop Experience
You would be more likely to seek out a barber and haircut if you are seeking a short and traditional style of cut, such as a flat-top, fade, buzzcut, or military-style cut. The barber will typically ask you how much of your hair you want to be cut and will do exactly that without much feedback.
You will find that barbers are cheaper than most hairstylists that work in salons, so if you are looking to save money, a barbershop is definitely for you. Barber haircuts are simple and easy to maintain and don't require a lot of fancy hair products.
In addition, many barber shops offer services for the face and neck, as well as the top of your head, such as hot lather face shaves, which is always a treat.
Lastly, many men prefer the comradery between guys that you typically see in barbershops. This is why many people view barber shops as the perfect male gathering hotspots.
Learn more about: There's an easy way to tell if you've picked the right barbershop
How Hair Salons are Different
A barbershop may not be for you if have longish hair and require more styling. Salons also specialize in hair dying, as well as trendy haircuts and styles. If you want a new style, a hairstylist can make suggestions that will complement your facial features. Barbers often don't have that kind of expertise. 
A Hair salon is also usually stocked with hair care products like shampoos and conditioners, gels and mousse products, and many more.
Learn more about Hair Salon Services
Talk to a Professional Barber at HESS Now!

Call Now!
What Does a Barber Do?
The barber as a profession has existed throughout history. Razors and other barber instruments have been discovered from the Bronze Age (3500 BC) in Egypt and the Middle Ages. Not many people know this, but in the past barbers not only cut hair but also performed surgery and dentistry.
These days, barbers specialize in short and simple haircuts, as well as beard and neck shaving.
However, barbers don't just work with men. Barbers may spend more time with males when compared to female clients, but many barbers do perform female haircuts as well.
A barber's job is to discuss hairstyles with the client, as well as execute the skills of a master haircut specialist. When it comes to the cuts themselves, barbers cut and style hair using a wide range of techniques and instruments.
Barber Shops can differ from one to the next. One may offer shampoo services while another may not, and some offer additional services, such as shaving, beard and mustache grooming, hairpiece fittings, and facials. State regulations often dictate which services barbers can offer. Some states, for instance, require that barbers carry a cosmetology license, while others have strict requirements for hair coloring, highlights, and other related services, such as adding hair extensions.
The barber's tools of the trade include scissors, electric clippers, combs, and straight razors. With the use of these instruments, the barber can add personality and texture to any hair type.
Part of a barber's job is being forever mindful of sanitation and safety. Barbers in training need to learn how to work in such a way as to mitigate risks and adhere to all local health department regulations. Barbers need to keep their client's areas free of germs, disease, and other health risks at all times.
At the same time, barbers need to possess certain business skills. A barber can't just be good at cutting hair, but they also must be proficient in the areas of customer service, business management, and simple accounting.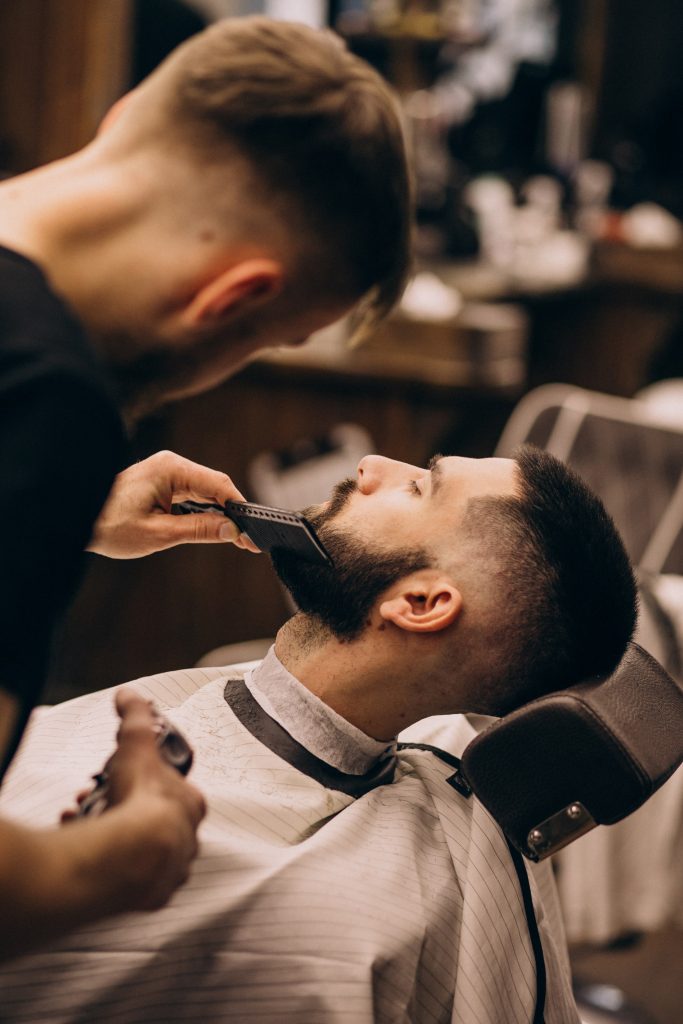 What Training do Barbers Require?
Both men and women are flocking to barber schools across the country, which means that barbershops are experiencing a renaissance of sorts in many cities everywhere. Most barbers are inspired to enter into the profession based on their own sense of style combined with fond memories of sitting in their local barber's chair.
To become a barber, a comprehensive education curriculum is required. The individual must earn a state license, which requires the completion of an approved education program or apprenticeship. In some states, both are required before one can work in a barbershop. The education is usually completed through a dedicated barber or cosmetology school. The person must complete a certain number of hours. Illinois, for example, requires barbers to complete a program that is at least 1,500 hours long. Pennsylvania, on the other hand, requires only 1,250 hours.
The curriculum teaches barbers how to deal with bacteria and hygiene, sanitation and sterilization, shampooing and scalp massages, how to use straight razors, and how to manage scalp and skin diseases. Barbers are also well-versed in physiology and state barber laws, rules, and regulations. All state boards require a written and/or practical barber examination.
The Barber Shop and Hair Cut Services You Want Most
Many barbers offer standard services like men's haircuts and scalp massages. However, barber shops do offer unique services. It depends on where you go and the expertise of the barber in question.
Here are some of the services you are likely to encounter the next time you visit a barbershop.
Men's and Boy's Haircuts:
When you want a short and simple look, you can get an excellent cut and shave the next time you sit in the barber's chair. Boys, too, can enjoy crew cuts, side parts, tapered cuts, and fades. Most barbers are knowledgeable about the popular styles for men and boys, giving you a clean haircut you will be proud to wear.
Scalp Massage & Conditioning Treatment:
In addition to getting your haircut, you can often enjoy an extended scalp massage at the hands of your skilled barber. These massages are more than just fingertips on your scalp. The services often come with heat and deep conditioning treatments that can relieve stress, induce relaxation, and encourage blood flow to the scalp. The latter has the added benefit of stimulating new hair growth! Plus, the deep conditioning treatment will make your hair more malleable for an easier and more comfortable cut.
Straight Razor and Wet Shave:
Not all, but many barbers will use a straight razor to give you a hot lather and wet shave. The blade of the razor allows for precise cuts without causing nicks, irritation, or razor burn. Since many barbers are considered artists with a straight razor, you can usually count on the closest shave and a beard that is shaped the way you prefer.
Beard Sculpting:
Speaking of the perfectly shaped beard, many barbers can take your scruff and turn it into a work of art. Depending on your face shape and hair texture, the barber's skillset allows for a beard that looks flawless. The barber will usually treat your beard afterward with beard grooming products to help condition and soften your newly shaped facial hair.
Talk to a Professional Barber at HESS Now!

Call Now!
Other Barber Services – Fine Men's & Women's Grooming at Its Best
You may find that some barbers offer additional treatments for both genders.
Hair Coloring:
When you want to change your hair color to experiment with a new look, a trip to the local barbershop may serve you well. You can highlight various aspects of your look and style, and your barber is sure to help you find the perfect color treatment.
Grey Blending:
When a barber offers hair coloring, one of the services they may recommend is to blend your grey hair with the rest of the follicles on your head. With many people fashionably rocking the grey look these days, your barber can give you a professional grey hair blending treatment to make your hair look natural and fantastic for any occasion.
Facials:
Men and women can sometimes take advantage of a barber's facial cleansing treatments. These treatments differ depending on which barbershop you visit, with some offering age repair, eye firming treatments, and pore cleansing. If your local barber does offer these services, you have the opportunity of leaving the barbershop with a brand-new haircut and more radiant skin.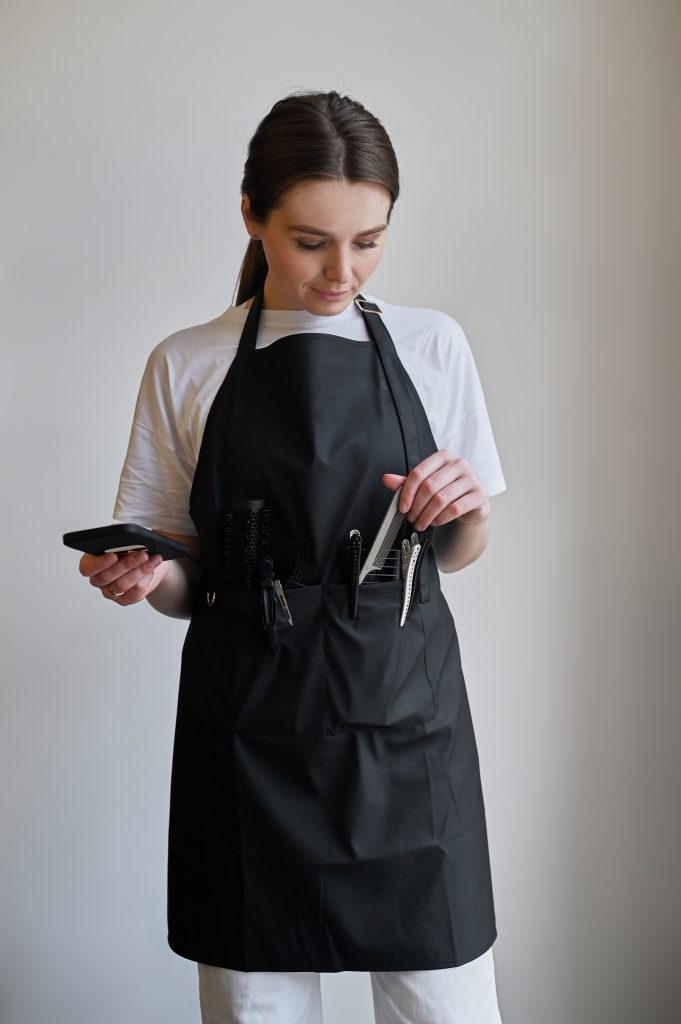 Are There Any Barbershop Etiquette Rules You Should Know?
Barbershops tend to have a culture all their own, and the owners expect you to adhere to a certain level of decorum. Here are the rules of the barber's chair that are likely to encounter the next time you step in to get a haircut.
Be on Time
Being on time for your barber appointment is just common courtesy. For good measure, it is best to show up around five minutes early. If you are late, you run the risk of frustrating your barber and putting him or her behind.
Clean Your Hair
It is tempting to roll out of bed and head to the barbershop, or maybe visit the barber after the gym and without a shower. However, barbers appreciate it when you clean your head before your appointment. By washing all the gunk out of your hair and at least combing your hair before, you give the barber a clean canvas to work with, allowing for a superior cut and shave.
Know the Cut You Want
Another way to frustrate your barber is to sit in the barber's chair and waffle about when it comes to choosing the haircut you prefer. Your barber is likely very busy, and he or she won't have time to wait for you to make a decision. It is best to have some idea of what you want before showing up for your appointment.
Have Patience
Don't rush your barber. You may be late for another appointment, but you can't rush art. Your barber needs the proper amount of time to cut your hair, shape your beard, and perform all other services to the best of his or her ability.
Tip Your Barber
If you are satisfied with your haircut, you are always encouraged to tip around fifteen to twenty percent of the total price. However, you are free to tip however you like. A tip represents how happy you are with your hairstyle and service. Furthermore, tipping well makes it more likely that you will be remembered and treated like a VIP during your follow-up appointment.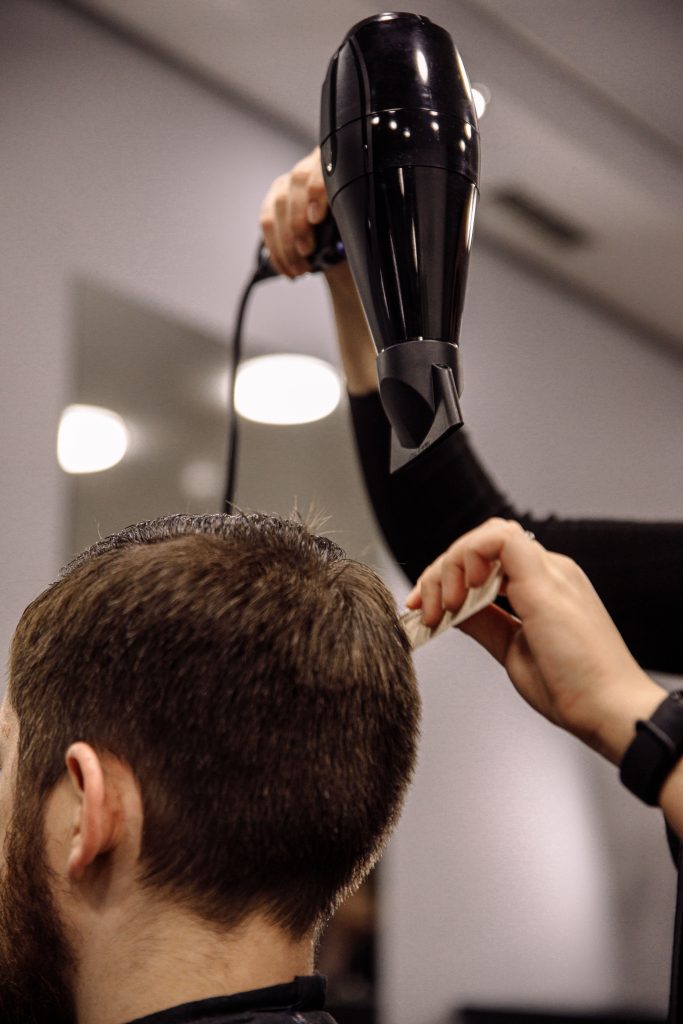 Get the Look You Want at Our Barber Shop in Ann Arbor, MI
You have many choices when it comes to finding a barber in your area. If you live in and around Ann Arbor, Michigan, and you want a barber that can give you the haircut, beard shave, and other treatments to make you feel like a king or queen for a day, Hair Essentials Salon Studios has the answer.
Most barbers begin their profession by working as an employee in an established barbershop. As the barber becomes more experienced, he or she will begin to build up a client base, and some may go on to open a barbershop of their own.
We offer barber services with a special touch, and you are sure to love the hairstyle and expert pampering you receive. We also offer other beauty services such as nail salon services. Call now to schedule your appointment.
If you are a barber and you are looking for a turnkey operation so that you can offer your services right away without looking for a location, securing funding, and all the rest that goes into owning your own business, we can help.
With our salon suite rental, we give you everything you need to run your own barbershop and allow you to keep all the proceeds for yourself.
Contact us to discuss your ideal barbershop studio.