What Makes Us Different
As one of the most well-known salon names and with over 50 years of experience in the industry—you know you can trust the Hair Essentials Salon Studios for well-priced, high-quality services and the pampering you deserve. Our full-service and spa zone has been here since 2011, offering a wide range of services to help you feel your best, and look fantastic.
Our talented team strives every day to deliver on its promise of providing high-quality pampering at affordable prices. Part of their commitment to you includes constant learning, so they're always ahead of the curve and able to give you the trendiest styles or colors and the latest skin care treatments. As experts in the best products—including Redken for all your haircare and styling needs, Dermalogica for clear, beautiful skin, and OPI for long-lasting nail treatments—our team will make sure you love how you feel when you leave the Hair Essentials Salon Studios. We know you'll be in good hands here—96.8% of clients would refer friends and family to us!
Our wide range of salon services includes:
Cut & Style
Colour
Perms & Straightening
Hair Extensions
Esthetics' services include:
Manicures & Pedicures
Skin Treatments & Facials
Waxing
Brows & Lashes
Eyelash Extensions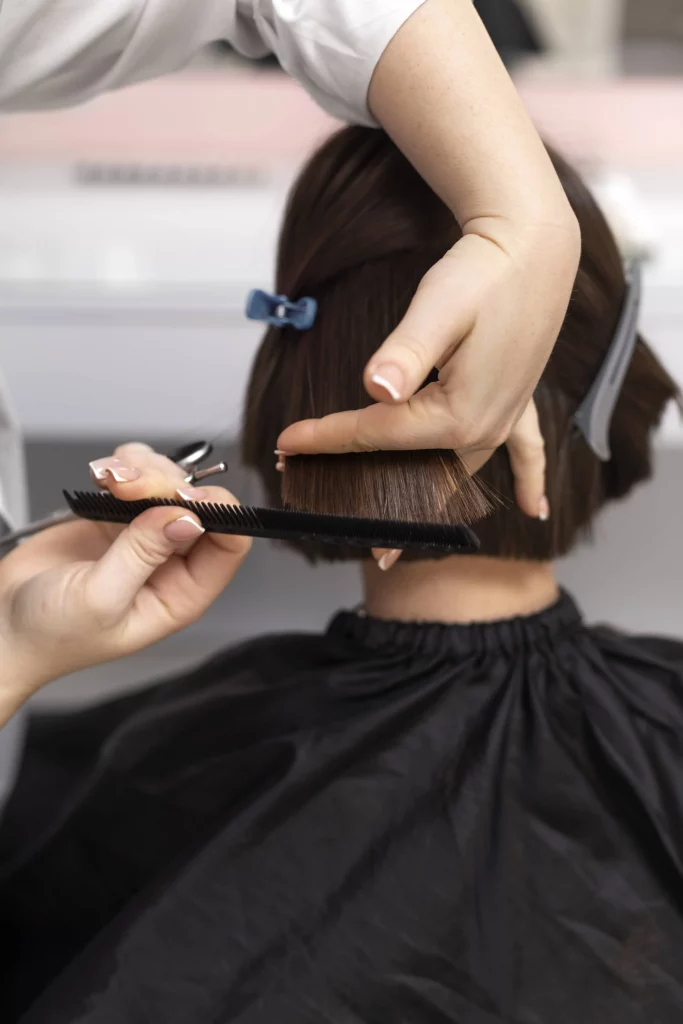 Hair Salon Services
It is our pleasure to offer our clients a fully comprehensive consultation at no extra charge before every beauty salon service. If you would like to consult with a hairstylist before scheduling an appointment, simply ask our front desk team to reserve 15-minutes with one of our stylists at no charge to you.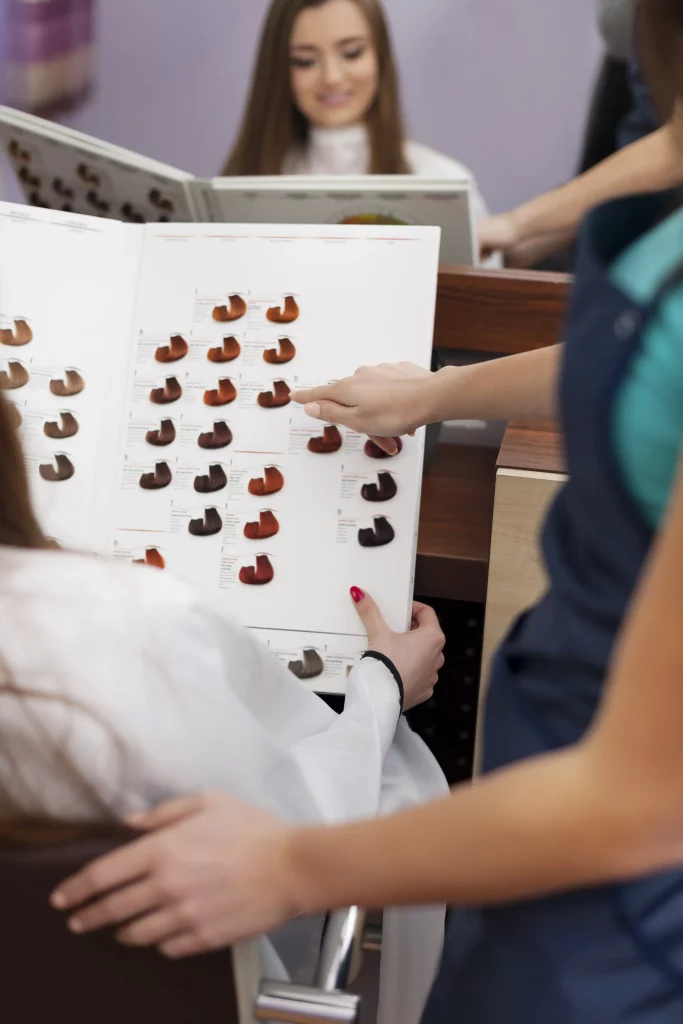 Hair Services
To maintain the health and beauty of your hair, the Hair Essentials Salon Studios offers specialized treatments that enhance its strength, moisture, smoothness, and shine. Perfect for any hair type, our treatments are ideal for hair that is chemically treated. Please ask Hair Essentials Salon Studios for information on treatments best suited for your hair. All of our hair services are accompanied by a relaxing scalp massage.
Our hair services include hair cut for women, men, and children, shampoo & blow drying, beard trim or outline, clipper cut, bang trim, flat iron, curling iron, or hot rollers, conditioning treatment, strength & repair treatment, heat cure treatment, etc.
Hair Coloring Services
Whatever your hair coloring needs, let us customize a look for you. Ask about our specialty color techniques. For full details on color costs, it is our pleasure to give you a comprehensive consultation before your service.
Our hair coloring services include corrective color, balayage/ombre technique, Full foils (overall lightened appearance), men's partial color, men's highlights, men's grey blending, etc.
Hair Straightening and Perms
With the help of our beauty professionals, you can add volume and texture to your look or tame down the unruly curl. Enjoy months of lustrous waves, bouncy curls, or sleek and shiny straight hair with semi-permanent curling or straightening services. Please note that straightening treatment requires consultation and these services do not include cut and style.
Our services include full perm, curl reduction service, design waves, thermal straight and curl, keratin smooth treatment, thermal Ionic service, etc.
Hair Extension
Great Lengths, the hair extension system that has changed the worldwide definition of hair design, will make your desire for thicker, longer, more beautiful hair a reality. With the Great Lengths patented technology for the application of 100% human hair strands, the limitations presented by all other extension systems are eliminated.
Whether your application is for length, volume, color enhancement, or simply to update your current style, this revolutionary system will harmonize beautifully with your natural strands without ever displaying the visible tell-tale signs that are so common with other hair extension systems.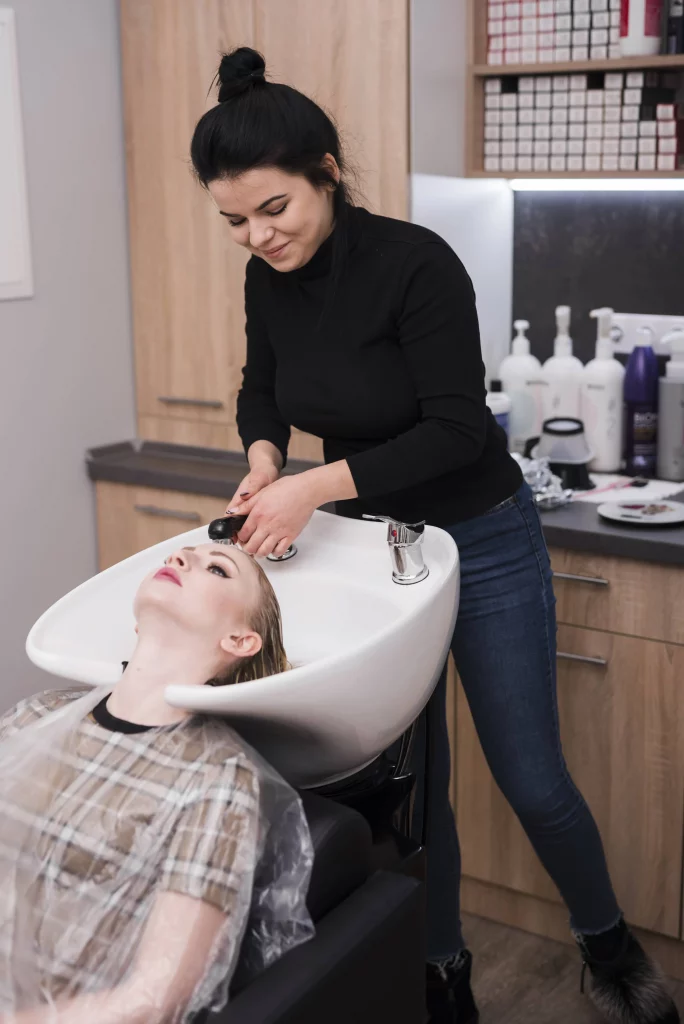 However, our services are not limited to those offered at a hair salon. We also provide all other types of beauty services, ranging from barbershop services and skin care to hair removal and eyelash extension. Hair Essentials Salon Studios offers salon suite rentals to beauty experts who are looking for a well-equipped place to offer services to their clients.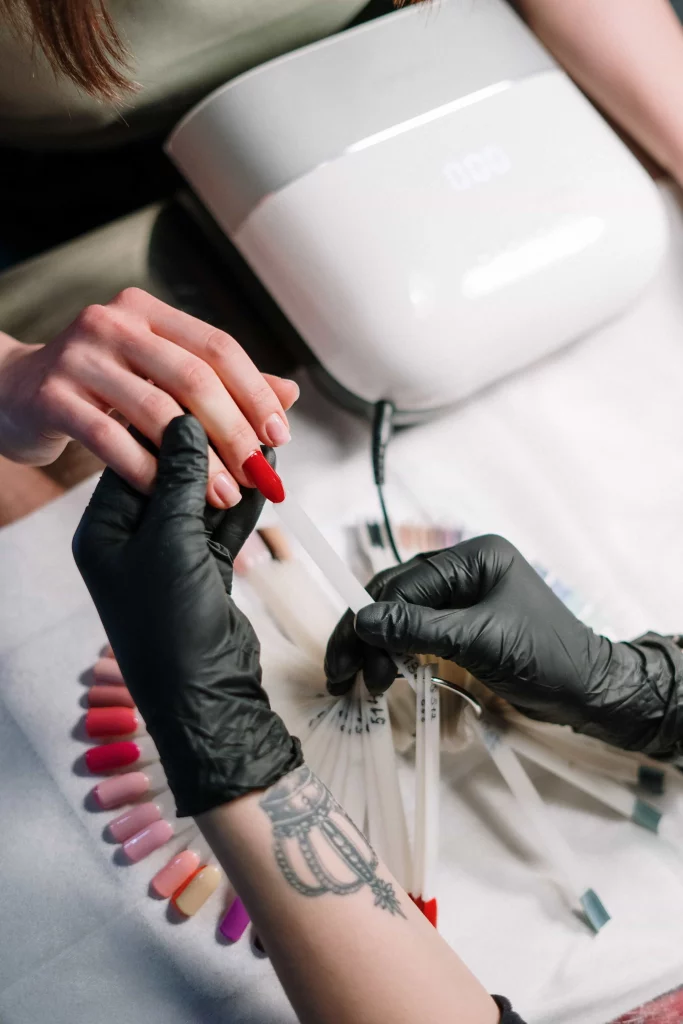 Nail Salon Services
Your hands and feet work as hard as you do—you should reward yourself with a refreshing treatment with talented aestheticians at the Hair Essentials Salon Studios. Using premium OPI products, our range of nail services includes luxurious and relaxing Essential manicures and pedicures, Express manicures and pedicures for those of us with less time, and gel nails for long-lasting, durable results.
Let your cares melt away during your Essential manicure or pedicure treatments, which include a long soak, exfoliation, massage, and reshaping of nails. Express treatments revive hands and feet in a shorter amount of time, so even if you only have 30 to 45 minutes, you can still look and feel your best.
All treatments can use gel polish for long-lasting results, and at select Hair Essentials Salon Studios, we offer a range of embellishments that you can add to your service. To enhance your natural nails, we also offer gel nails and fill-ins to keep your hands looking great.
Manicures and pedicures at our nail salon do more than relieve your tired hand and feet with the pampering you deserve. Regular manicures and pedicures are essential for maintaining healthy nails. Our aestheticians are trained to examine your hands and feet for numerous conditions, helping you keep your fingers and toes in great shape. Book your manicure or pedicure today!
Our manicure and hand treatment, as well as pedicure and foot treatment, include essential manicure, express manicure, french polish, Gel Laquer, Gel removal, nail embellishment, gel fill-in, callus removal, etc.
Talk to a Nail Technician at HESS!

Call Now!
Skin Care Services
Get glowing, flawless skin with facials and tailored skin care treatments. Beautiful, clear skin is a few customized treatments away. We offer a range of skincare options, including Express facials and customized skin care services. Your service begins with a complimentary consultation, helping us understand your skin type and goals so we can ensure you get the most from your treatment. Express facials are a perfect option for busy people who deserve to be pampered when they can fit it into their schedules. If you're dedicating more time to yourself, choose a longer facial to relax, and feel your cares melt away during your treatment in our soothing, relaxing spa-like environment.
Not only are facial treatments a wonderful way to relax, but dedicated skin therapy treatments can help address redness, blemishes, dull or tired-looking skin, and more. At the end of your facial, you'll enjoy glowing, bright skin. Aestheticians at the Hair Essentials Salon Studios use premium Dermalogica products to create tailored treatments to help you improve how your skin looks and feels.
Our skin care services include:
Customized skin therapy treatment
Express Facial
Dermalogica Pro Peel (30 minutes)
Dermalogica Pro Peel (60 minutes)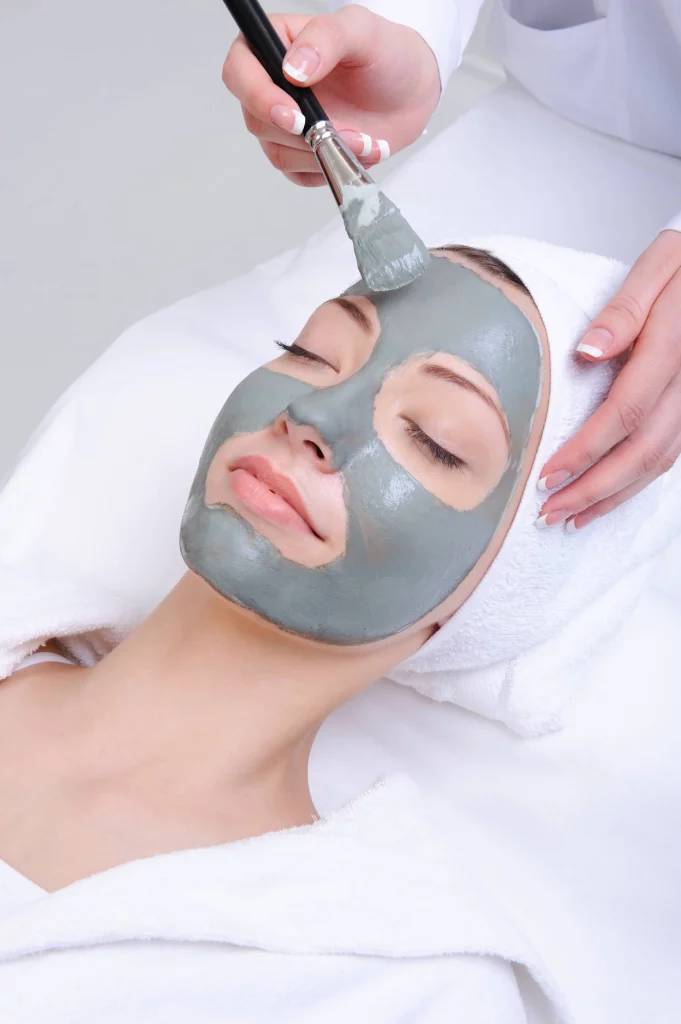 Eyelash and Eyebrow Services
Beautiful, bright eyes can make you feel better and more confident. Simply making lashes more prominent can even make you look more youthful, so it's probably no surprise that most women say that mascara is their go-to makeup product. With brow tinting and eyelash extensions from the Hair Essentials Salon Studios, you'll find a subtle change that can make a huge difference, helping you put your best face forward every day.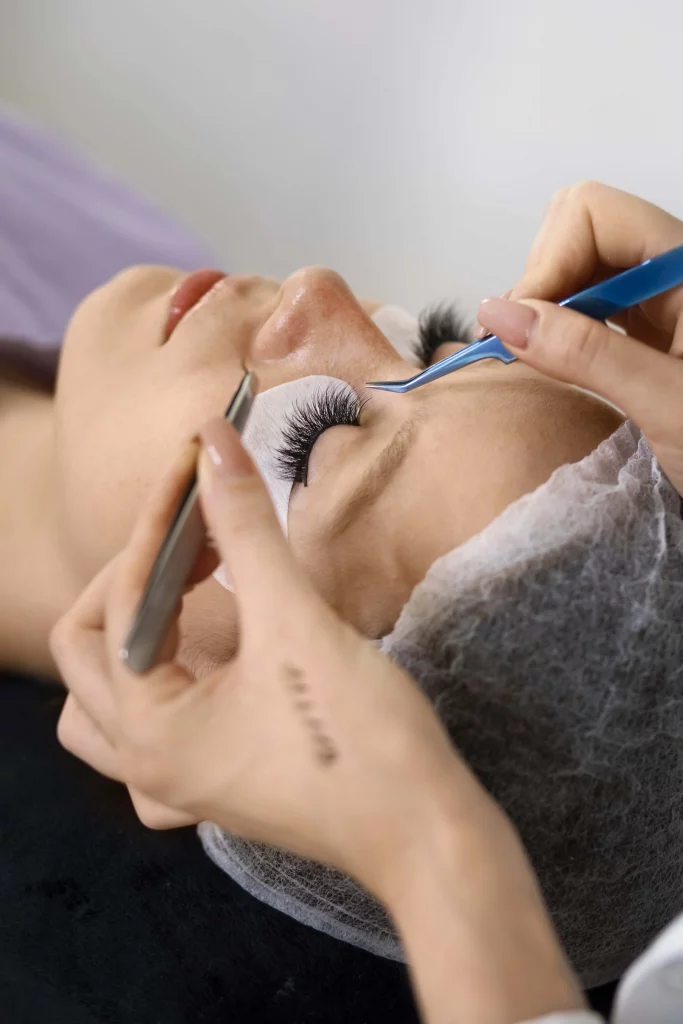 Eyelash extensions are a simple, long-lasting way to add length and fullness to your eyelashes. Each lash extension treatment is customized so your lashes will be as dramatic or dark as you'd like, and the results typically last from three to four weeks.
Similar to hair extensions, lash extensions attach individual synthetic lashes to your natural lashes. The design is tailored to highlight your natural beauty, so the shape, thickness, and length vary. The initial appointment can take up to two hours with touch-ups requiring significantly less time.
Brow and lash tinting is a safe and semi-permanent way to deepen the color of your brows or lashes, helping them to appear much fuller and darker. The results are similar to if you're wearing mascara or have used a brow kit, and you can amp them up even further with your makeup routine. Each tinting treatment can last six to eight weeks. Our aestheticians are happy to help you choose a natural-looking or on-trend shade for your tint!
Eyelash Extension Services
Eye Lash Extensions
Eyelash extensions touch up
Lash Lift
Brows and Eyelash Tinting
Brow wax/shape
Lash tint/Brow tint
Brow wax & tint combo
Schedule your appointment now with the nearest Hair Essentials Salon Studios to help you get dreamy, full brows and eyelashes. If you feel like your eyes don't stand out without your beloved mascara, prepare to fall in love with lash extensions.
By attaching synthetic eyelashes to yours, you'll instantly have long, full lashes. Still, natural-looking but striking enough to be noticed, your lash extensions will be totally customized to bring out your beauty and can be as full, dark, and long as you'd like.
Waxing and Hair Removal Services
Waxing is a popular and convenient way to remove unwanted hair from anywhere on the body. It provides quick, long-lasting hair removal. Designed to remove hair from the root instead of at the surface, waxing means you'll enjoy smooth skin for significantly longer than shaving. The Hair Essentials Salon Studios offers a range of head-to-toe waxing options.
Our estheticians are trained to make waxing as comfortable as possible. We exclusively use professional quality warm wax that contains soothing essential oils, helping to reduce redness and calm the skin after treatment.
Waxing is a great option for long-lasting hair removal and can be a more comfortable solution for sensitive skin than many other hair removal techniques. The results can last for three to eight weeks depending on how quickly your hair grows and the area being treated.
At the Hair Essentials Salon Studios, we offer a range of full-body waxing services for women and men. Schedule your appointment today, and love how sleek and smooth your skin will feel!
Our waxing services include facial hair removal, body and bikini waxing, and men's hair removal services.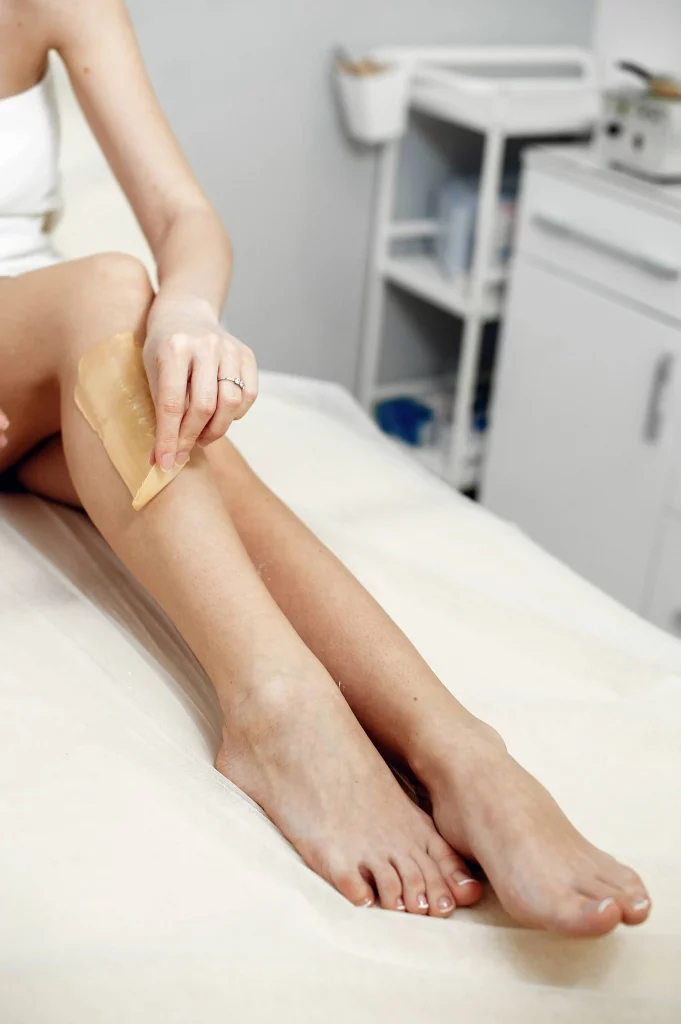 You Deserve the Best!
Hair Essentials Salon Studios lets you enjoy a full range of beauty seervices, from a cut and color to manicures, pedicures, eyelash extensions, eyebrow waxing, and more. We offer salon suite rentals to professionals that will provide you with a top-notch beauty journey. Experienced, conveniently located, and affordable, there's nothing stopping you from pampering yourself at Hair Essentials Salon Studios. Contact us and book your appointment now!