A turnkey salon studio is an ideal way to begin offering a service to customers right away without the need to follow the traditional means of starting a business.
With most service-based professionals, starting a business isn't usually so easy. You have to draw up a business plan, show that plan to loan officers in the hopes of procuring funding, find a location, start relationships with vendors, and market so that you can get some customers into your newly opened shop.
Instead of going to all that trouble, the turnkey experience gives you a way to open your doors immediately.
Want to learn more? Here are the pros and cons of choosing a turnkey salon over the traditional business plan method.
But first…
What is a Turnkey Salon Solution?
The turnkey salon is the gig economy's update to the "booth rental" model. When a service professional like a nail or hair technician rents a suite, they get access to a pre-equipped salon that gives them everything they need to start selling their services pronto.
These high-end and fully stocked suites can be personalized with the technician's choice of décor and signage, meaning you can make the place your very own. The best part is that you don't have to take care of maintenance if anything breaks down. You have an onsite manager that takes care of everything for you, leaving you free to offer your talents to your loyal clientele.
As the salon owner, you can book your own appointments and set your own hours. You can choose your own prices and sell retail items, just as you could in your very own salon. You're not an employee; you're a salon owner, and you get to keep all the profits.
We provide salon suite rentals for those beauticians who want to open their own businesses. Our first priority is to satisfy our customers! This is why we only deliver the highest quality salon services and treatments in Ann Arbor. We have plenty of luxurious salon suites for spaces such as a barbershop with top-notch tools and supplies available for rent in Ann Arbor.
Get in touch with us for more details!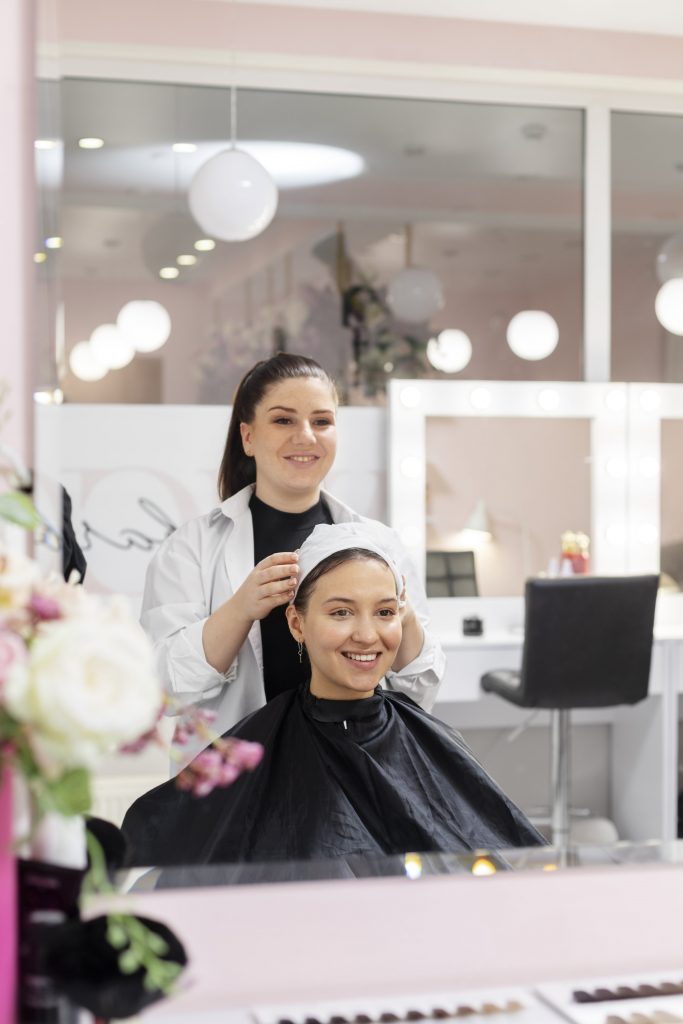 What Service Providers are Ideal for Salon Suites?
If you are an independent salon professional and want to open your own business, a turnkey salon is a perfect solution. Here are just some of the service professionals that can thrive in a turnkey environment. 
Hair Stylists

Barbers

Eye Lash Extension Technicians

Massage Therapists

Waxing Technicians

African Hair Braiding Techs

Estheticians

Facial Technicians

Hair Weave Professionals

Makeup Artists
What Does a Turnkey Studio Come With?
Turnkey salon studios come fully equipped with everything you need for a stellar customer experience. Depending on the business you hope to open, here is what you can expect the salon to contain.
Hair salon style sink & shampoo unit

Styling chairs

Styling stations

Cabinets

Storage for equipment

Mirrors
Some salon suites offer free wi-fi and flat-screen televisions, washers and dryers, and other helpful amenities to help you manage your business and attract just the right clients to grow your business.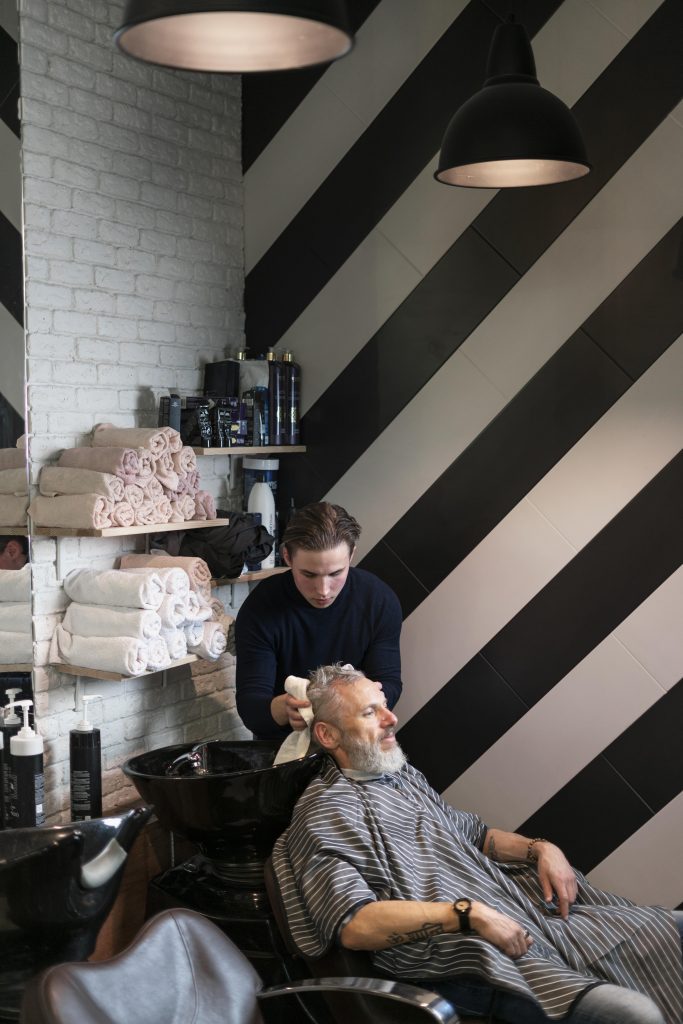 Pros of Renting a Turnkey Salon
You Are in Charge
Renting a salon from a turnkey studio gives you free rein to decide every aspect of your business, from pricing and product lines to your hours of operation. This is a far cry from the experience most "booth rental" service technicians are familiar with.
Financial Rewards
Arguably the biggest advantage is being able to earn a higher profit margin for the services you offer. Most rental booth technicians work on commission, as the price of each service is split with the salon owner. With a turnkey salon, you are the salon owner, so you get to make much more money off each service and retail sale.
According to the NAILPRO 2018 Gold Book survey, 75% of nail techs working from a salon suite earned more than $450 per week compared to 54% of techs renting a booth in a conventional salon. You can also write off supply expenses, thus reducing your tax liability. This is a big contrast from when you're an employee, as the salon owner usually gets the tax advantage. 
Privacy
Another terrific benefit of renting a fully equipped salon is that you get to enjoy privacy. When you rent a booth, you always have someone eavesdropping on your conversations or borrowing your supplies. With a turnkey salon, you're in your own environment and can run the type of salon you want without having to sacrifice your privacy in any way.
Added Perks
Some turnkey salons offer amenities that can't be beaten, like 24-hour access, which is ideal if you have clients that can't show up during traditional salon hours. Many of these salons also offer electronic entry and security for extra protection.
Cons of Renting a Turnkey Salon
You Must Market Your Own Business
Depending on where you rent your salon, you may find that there is very little foot traffic. That means that you can't normally rely on walk-in appointments like you can when renting a booth in a traditional salon. This puts the marketing burden on your shoulders to bring in your own clientele. For those who are good with people and get lots of referrals, this may not be an issue. For those who aren't good at marketing, a turnkey salon may prove a struggle.
Time Constraints
When you rent a booth, you usually clock in and clock out by a certain time. Not so with a turnkey salon, where you are the business owner. This means you need to gather your own supplies, answer phones and texts from clients, and manage your own books.
Self-Employment Taxes
Salon suite operators are considered self-employed, which might mean a slight increase in taxes. This is because an employer will no longer be covering your social security and Medicare tax bill. However, many times these increases can be offset by writing off various salon expenses.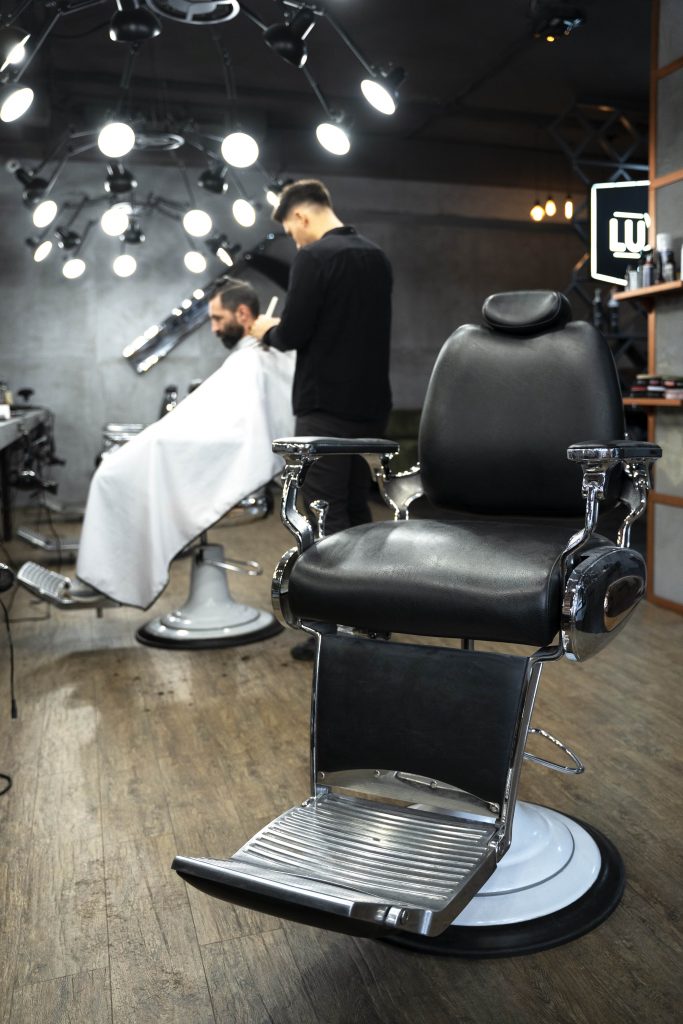 Booth Vs. Salon Studio Rental
By now we have seen some benefits and downsides of a studio suite. However, to put it into proper perspective, it helps to look at the issue from a rental booth perspective. What's the difference in the experience between renting a booth at a salon versus renting a turnkey studio suite?
Freedom
When you rent a booth, you are restricted to the hours of operation that the studio owner has set. What if you have a client that can only come at ten at night? You can accommodate latecomers with a salon studio. With many turnkey businesses offering 24-hour access to your salon, you can help clients anytime day or night.
Vibe
When you rent a booth, you and your clients are forced to listen to the music the salon owner decides upon. You are also forced to accept the décor, color, and branding. With a salon studio, on the other hand, you have full control over the salon vibe, including the décor, color, branding, and smell.
Cleanliness
It can be frustrating working at a salon with a bunch of other booth renters, as the cleanliness of those other booths is out of your control. With a salon studio, you have full control over the cleanliness of your studio. And you had better believe that the on-site managers will make sure the common areas are always well-kept.
Drama-Free Environment
Booth rental technicians know full well how much drama and gossip goes on between service professionals. With a turnkey rental, you have complete privacy and can create a drama-free environment, letting you give your clients your full attention.
Retail
With a booth rental, you have limited space to display any retail items you want to sell, like nail polish, shampoo, and conditioner. With a turnkey operation, you have ample space to store and display any retail items you want to sell.
Reputation
With a traditional salon, the reputation of that location is based on the other stylists and is completely out of your control. With a turnkey salon suite, you are responsible for your own reputation.
Marketing
Renting a service booth places the responsibility on your shoulders to find your own technology and market your business. Many turnkey salon suites give you lessons and tools to manage and market your business easily, helping you build a steady stream of loyal clients.
Learn more about: Rent Your Own Salon & Open Your Business to a Loyal Clientele
Education
You are not always guaranteed an education on how to be the best service technician possible when renting a booth. Salon suite owners, on the other hand, often hold events and webinars to help you grow your business using your unique ambition and vision.
How Much is a Salon Suite Rental?
The rental fees you can expect to pay will differ depending on where you lease. However, most salon studios fall within the range of $225 to $500 per week.
Tips for Renting a Salon Suite
Now that you know more about the turnkey salon studio experience, you may be ready to take the plunge. After all, the cons of renting a studio over a booth aren't that bad, especially if you are great at marketing and running your own business.
Here are some tips to help you dive in and start selling your services right away with the salon studio experience.
Ask Plenty of Questions
Before renting a studio, ask the business manager how long the lease terms are for. You will want to know about the security deposit amounts, and if they offer any move-in specials.
What happens if you run into trouble halfway into your lease? This is where you will want to ask if subletting your unit is possible. You might also want to discuss the ramifications if you ever have to break your lease.
Finally, make sure you ask about business marketing classes or continued education, which many studio salons offer. And, while you're at it, ask about fees in addition to your weekly rent, including maintenance fees, cleaning fees, and others.
Talk to Other Renters
You could learn a lot about the studio salon experience by talking to other renters within the same location. Ask what technology is needed to run a business at that location. For instance, how do the other hair salon technicians market their business? How do the nail salon technicians remain motivated? Ask about the biggest benefits and downsides from their perspective. 
If you learn that taxes and learning to pay yourself are the biggest hurdles, you will want to have a plan to handle those things for when the time comes.
Think About Your Brand
Before renting a salon suite, think about what you will name your business, and how you will decorate. You might also want to think about the design of your business cards, website, and social media pages. This is your chance to build your personal brand, so spend some time considering how to make your salon suite truly yours.
Consider Legal Issues
If you are thinking about making the jump from booth rental to a salon studio, you might first want to determine if there is a non-compete contract between you and the salon owner. Will you be sued for jumping ship to open your own business? What about client files? Are clients fair game to take to your new location, or could you be sued for breaching the agreement you signed?
When you rent a studio, you are now the salon operator. That means that, by law, you could be sued by a client for whatever reason, which could be the case if they slip and fall on your wet floor. To mitigate this risk, you should consider creating an LLC, which can protect your personal assets if a client ever takes you to court.
Do the Math
Finally, make sure you are prepared to pay all the expenses you might face in addition to your weekly rent. For instance, you may need bookkeeping software, magazine subscriptions, an appointment and scheduling system, door signage, renters and liability insurance, inventory and retail items, laundry, credit card fees, phone bills, and taxes.
While all these costs can be daunting, with a proper plan you can come out with a hefty profit in the end.
Rent a Salon Suite and Become Your Own Boss
By now, it should be clear that renting a salon studio is far superior to opening a new salon or renting a booth at a salon that's already in operation.
This is your chance to become your own boss, keep all the profit, and run the type of salon you want to run.
To get started, contact or visit Hair Essentials Salon Studios in Ann Arbor, Michigan. We have a range of salon options for you to choose from. Whether you're a hairstylist, nail tech, massage therapist, waxing technician, or any other type of service provider, we are confident we can find the turnkey solution to suit your needs and budget.